Gail Chiasson, North American Editor
Visix Inc., Atlanta, has launched MeetingMinder 1200i, an interactive room sign line.
The product has a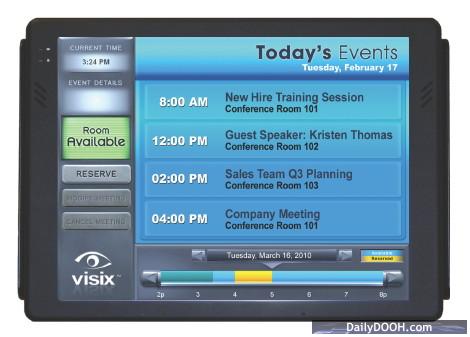 12″ surface-mount option with touchscreen capabilities, event scheduling support for Dean Evans & Associates EMS Software, Microsoft Exchange and support for multiple operating systems.
The MeetingMinder 1200i is a sleek, surface-mount display with an attractive low-profile depth of 1.02-inches and weighs less than four pounds. Surface mounting eliminates the need to penetrate the wall, install a UL-certified back-box housing, and recess the room sign. (Plenum air space requirements are no longer a factor in surface-mount applications, thus reducing the cost of the deployment.)
Visix offers a full range of architectural accessories to complement MeetingMinder room sign installations, including decorative covers and recessed wall enclosures in a variety of colors and finishes to complement clients' décor.

The products replaces a 10.4" model which, says Ellyce Kelly, Visix public relations spokesperson, which did not have a UL-certified mount. Kelly says that the 12″ model is also thinner and lighter weight. The browser-based interface allows users to create and manage content from any PC or browser-compliant device on the network or via the web. A single Visix Enterprise server is capable of supporting up to 4,000 MeetingMinder room signs.
The company is targeting the new 12″ model mainly at the corporate, hospitality, higher education and healthcare markets.