Gail Chiasson, North American Editor
A mobile version of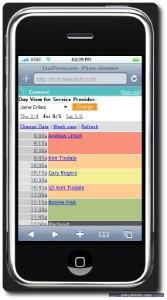 popular online appointment scheduling service, Schedulicity, based in Bozeman, Montana, is now available for small businesses and their clients.
The company's convenient, searchable appointment scheduling is already being used by service professionals in 49 states and 400+ cities in the U.S., and now can be accessed using the mobile screen.
Filling a need for professionals who want to actively manage their online appointment book in real-time, Schedulicity offers all the features necessary to run a small appointment-based business from a mobile phone. Schedulicity mobile delivers what professionals need to be responsive, flexible and successful.
From a Blackberry, Android or iPhone device, businesses can create and edit client accounts, create and cancel appointments, send and receive appointment reminders, and manage daily and weekly calendars on the fly. Even a double-booked appointment can be managed on-the-go. Clients can search for nearby service professionals, book appointments and manage future appointments all from their mobile device.
"Web-based appointment scheduling is the next disruptive technology because it's at the convergence of web 2.0, mobile computing, social media and common sense," says Jerry Nettuno, CEO of Schedulicity.
It is estimated that 20-40 million appointments are made in America each day. Now, they can be booked via mobile phone in seconds.
CNBC Magazine recently recognized Schedulicity among 12 important technology trends for streamlining operations and customer service in 2010.