Gail Chiasson, North American Editor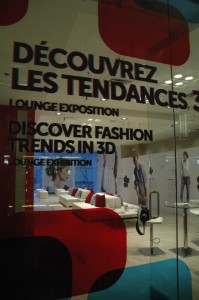 When it's 3D on a printed vinyl sheet, showing – in this case – fashions, photographed by two cameras simultaneously, photographs layered on each other, and then seen as 3D by viewers wearing the usual 3D glasses.
That's the way that Complexe Les Ailes, a retail and office complex on Saint Catherine Street in Downtown Montreal, is showing off the latest in fashions and fashion trends for the next six weeks.
On busy Level One of the shopping complexe, an attractively designed, large lounge has been set up where shoppers are invited to come in, put on 3D glasses and see some of the spring's newest fashions, all in 3D mode and accompanied by written texts about the designers, accessories, colours and more of the season's trends.
"It was the idea of our ad agency, Les Evadés," says Maryse Lepage, director of marketing of the complexe. "The photography is by Danny Chianfarra."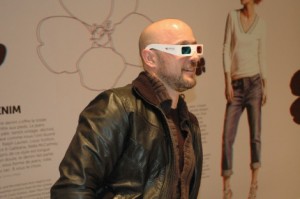 The 3D posters in the lounge – which is open to all – are of various sizes, but reach ceiling to floor.
Other non-3D posters are throughout the three levels of the shopping complexe that encompasses close to 60 stores and boutiques.
Lapage isn't worried about the white couches and other furnishings.
"We have a cleaning crew, and security cameras," she says. "Anyone causing problems won't get out the complexe."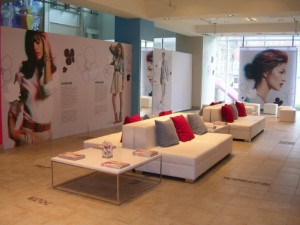 Magazines are being distributed to lounge visitors, and Lepage is talking to the various retailers regarding products and samples that could be distributed, as well.
The 3D lounge opened Easter weekend. While it is the first time Complexe Les Ailes has tried the 3D and lounge concept, Lepage says that it will be evaluated after this six week campaign for possible future use.