Gail Chiasson, North American Editor
Connectivision, based in El Dorado Hills, California, has been going all out to place its Connectimed products in hospitals and medical centres since launching six months ago.
The company has a goal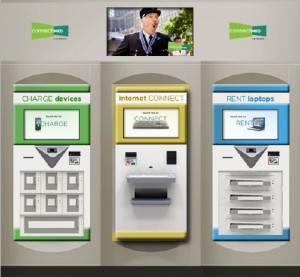 of 80 hospitals installed by Q4, 2010, and already in between 10 and 20 hospital and medical centres in the southern, central and eastern U.S. hold its interactive connectivity stations in their entries, business and common areas.
And that's in addition to a separate network of HD LCD screens in doctors offices and clinics, as well as hospital waiting rooms and cafeterias.
Connectivision began life as Powerport in airports four years ago, and many of the same features of its interactive connectivity centres seen in airports have been incorporated into its Connectimed network. (The airport division now operates as Connectiport.)
The interactive connectivity centres combine digital screens along with the ability to recharge cell phones, rent (Dell) laptops, connect to the Internet, and print, all in one centre. Digital screens carry advertising and sponsored content, with all medical information vetted by a physicians' advisory board. The system allows staff, patients and visitors to stay connected with the outside world.
Software backing Connectimed products is by EnQii, New York – chosen, says David Tetreault, Connectivision's chief marketing officer, "for the flexibility of its system to handle digital content and social-based interactivity."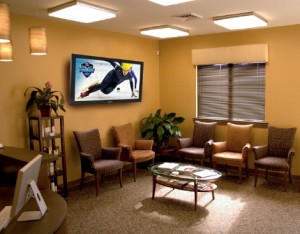 Screens in doctors waiting rooms and clinics, where waiting time can often be long, show 30-second advertising spots, healthcare messaging, and programming from numerous commercial TV channels.
And, in addition to general networks, the company offers a specialized network for orthopaedic surgeons' offices.
The company, whose products are constantly monitored by Nielsen and Arbitron, sees huge potential. It says that 126 million patients annually visit 4,600 hospital emergency rooms with an average waiting time of 3.3 hours; that 358 million visitors annually visit 37 million patients in 5,708 hospitals with average stay of 5.5 days; and that 400 million visitors annually visit 40,000 doctors' waiting rooms with average waiting time of 31 minutes.
Connectivision installs its Connectimed products for free, with a five-to-10 year revenue share agreement.