We are told that Toronto's Point of Sale (POS) and retail management company RT7 recently struck a partnership with wildpostings outfit Grassroots Advertising in efforts to strengthen RT7's ad network of 120 POS terminals in the Toronto area. Grassroots' sister company POP Media is also involved.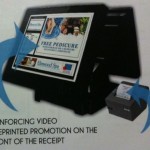 RT7's POS network includes Hero Burgers, Piazza Manna, Lettieri's, Mega Wraps and Quesada Grill chains in the GTA area. The POS terminals (and now a complementary digital menu-board offering also), are sold at subsidized rates in exchange for shared advertising space on the secondary, customer-facing screen.
The resulting ad network is dubbed 'Counter Connection Media Retail Network Platform'
A key part of the Counter Connection Media Retail Network Platform is connection to the venue's receipt printer (bundled in the POS) allowing third party advertisers to affix Action Enablers™ promotional messaging to the receipts.
We are told this method of tangible advertising has been highly popular with clients including Visa, Canada's Wonderland and HMV.
RT7's Director of Business Development, Ilya Spekhov told me "Action Enablers™ are a fundamental part of the transaction between the retailer and their customer. The Action Enablers™, which are printed on the customer's receipt, are handed directly to the customer at the end of the transaction and have proven to be an effective way to get consumers to interact with various messages after the initial sale."
RT7 tells us that while averaging around 10% conversion rate, some ActionEnablers™ campaigns achieved as high as 40%, which is pretty incredible.
In addition to expanding their Counter Connection Platform, RT7 is also working on a provisional patent for integration of POS transaction data with legacy digital signage systems. This new middleware-type of offering will work on top of any existing POS and Digital Signage system. No details are available at this time while the product is in final stages of patenting.
As QSRs and Retailers increasingly look to make their Digital Signage more intelligent, this new tool can offer a step in the right direction without having to overhaul the current POS or signage systems.