Adrian J Cotterill, Editor-in-Chief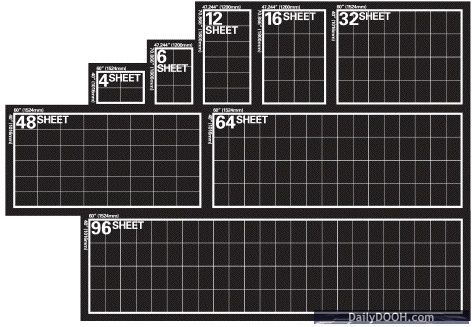 As you know I follow closely POSTAR's UK market data for billboards.
The number of traditional billboards in the UK has gone up in the August data.
4 Sheets – 676
6 Sheets – 73194
16 Sheets – 834
48 Sheets – 24905
64 Sheets – 0
96 Sheets – 3405
Other – 24464
Data source: POSTAR, Issue 106 August 2007
http://www.oaa.org.uk/
That's a total of 127,478 traditional billboards in the UK.
In all this research I could not find a single place that brought together ALL of the sheet sizes and nowhere could I find a nice diagramatical representation of what they were (if you are in the outdoor industry you would know which were portrait and which which were landscape but I didn't to start with!!).
4 Sheets are 72.11 inch in diameter (60 x 40)
6 Sheets are 85.17 inch in diameter (70.861 x 47.244)
12 Sheets are 134 inch in diameter
16 Sheets are 144 inch in diameter
etc.
The guys at Amigo Digital kindly created a graphic for me to my specification.
Thanks to James Davies at Posterscope / Hyperspace for correcting an error in the very original.