For those in the UK weary of the stats, graphs, swings and results of the recent General Election, please look away now…(or at least skip to the last paragraphs)…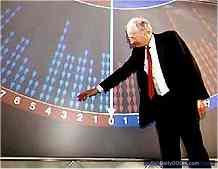 We have have been conducting a similar, although a smaller scale, exercise since the doors of #ScreenMediaExpo closed on Thursday 6th May.
When at the beginning of February we measured the number of tweets using the #ISE2010 hashtag for the Amsterdam show, we were surprised by the relatively low number of tweets (about 380) for such a large show (attendance was 28,489). We put this down to a lower engagement with business social networking in Europe compared to North America.
Since then there have been three trade shows, including #ScreenMediaExpo just gone, which are largely similar in reach and attendance. DSE (in Las Vegas at the end of February) is the largest, and at the moment is the main digital signage show in North America. #KioskCom (now CETW, it was also in Las Vegas in April) is smaller both in size and attendance – although Lawrence worked hard in successfully making sure the quality of those attendees was high – and #ScreenMediaExpo is probably somewhere between the two.
We have compared some Twitter statistics for these three shows, and the picture in Europe has changed somewhat, with a very much increased engagement.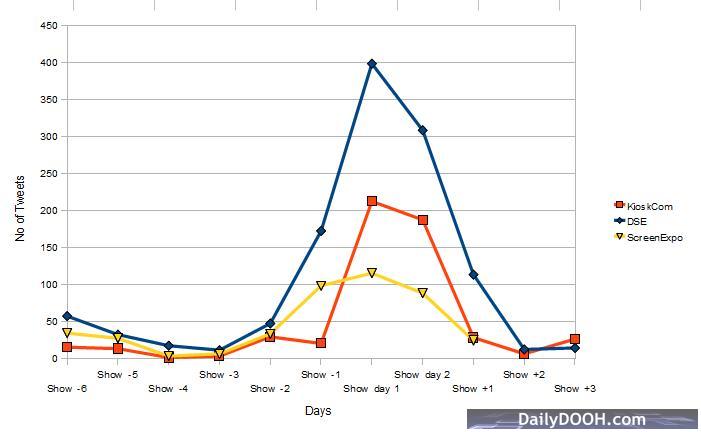 The above graph shows the number of tweets occurring on each day. We aligned the dates around the show days (all three were two day shows on Weds and Thurs). The large spike comprises of two large values, and you can see that the number of tweets has increased substantially on each day of the show for the two US shows. On the face of it, #ScreenMediaExpo (in orange) still doesn't look as busy as the US shows, but this is only showing a narrow period near the actual show days.
What actually happened is there is a longer 'tail' where in the weeks leading up to #ScreenMediaExpo, there was a lot of build up, and when you look at the total numbers, the picture changes: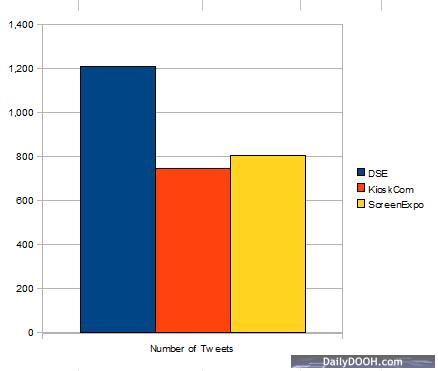 The number of tweets about #ScreenMediaExpo was actually 804 by the end of Friday, just ahead of #KioskCom.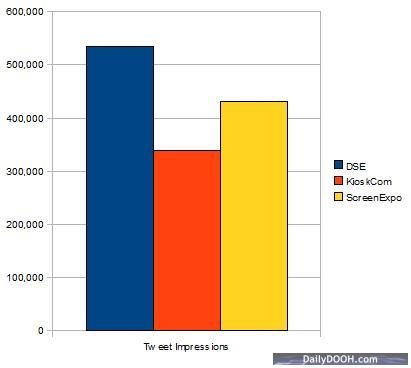 The number of Twitter impressions for #ScreenMediaExpo was 430,337 – even more ahead of #KioskCom.
Given that the show attendance was 3,195 you could ague that it's a pretty good engagement when compared to the UK General Election. When polling closed on Thursday night, we couldn't help monitoring a number of the most popular hashtags being used (the top two were #ge2010 and #ukelection).
After nearly two days, the number of tweets had risen to about 90,000. The number of people who voted was just under 30 million, and so you could say there was probably proportionately less twitter being generated by the event.
This comparison is by no means a rigorous statistical result, but it serves to give a flavour, and also usefully highlights the importance of co-ordinating and publicising common hashtags for conferences and shows – #ScreenMediaExpo being a successful example of this.
When everyone is aware of, and uses, a single hashtag, people collect together properly in a more focussed way. We are always encouraging organisers to do so (see our page of hashtags in use here). It's no coincidence that we also use the same term in our article titles when writing about trade shows to reinforce this.
If people guess what to use, there ends up with a number of hashtag terms in use which dilutes the overall effort, especially for events on a smaller scale than an election.