Gail Chiasson, North American Editor
Here are two new (mobile) apps that caught our eye recently, both geared to help keep people safe in totally different ways: The MyGlucoHealth Diabetes application for mobile diabetes management – now available worldwide through Ovi Store by Nokia; and the Apple iPhone Safe Driver Program app.
The MyGlucoHealth
app allows Nokia handset users to upload and manage blood glucose readings and improve their lifestyles using the MyGlucoHealth online portal.
The MyGlucoHealth Diabetes app enables Nokia users to:
wirelessly upload blood tests to the MyGlucoHealth Portal;
review and evaluate results on their handset, as well as chart data or enter weight, exercise and nutritional information;
notify family, physicians or caregivers with automated text message alerts and reminders when results exceed personally established threshold limits;
send and receive secure messages from their physician;
order replacement test strips for their MyGlucoHealth meter.
The MyGlucoHealth App was test marketed for less than 4 weeks and received nearly 40,000 downloads from Nokia users in 130 countries during that time.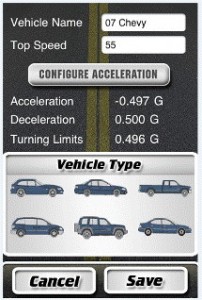 The Safe Driver Program takes advantage of the internal GPS locator systems and accelerometer combined with the speed of the 3G networks to provide instant knowledge when an iPhone toting driver exceeds whatever speed or acceleration set points you want them to stay below.
App designer Chet Karella of Dangerous Decisions says the programs are designed to be particularly useful for parents who want to monitor their newly licensed teen drivers, and for managers of truck and automobile fleets seeking assurance that their employees drive within speed limits and maintain safe driving behaviors on the job.
The Basic Safe Driver Program can be downloaded for free and allows a user to experience pre-set fixed g-force and speed limits. The violations are displayed and the last two trip reports are stored of the device for review.
The Safe Driver Pro version (USD 24.99) allows users to specify the speed and g force set points and identify how they want violations to be automatically reported and where.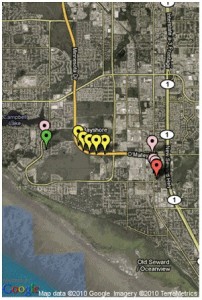 When a violation occurs, the program will automatically send either a text message or an email message identifying the vehicle being used, the time the program started and stopped, the set point exceeded, the time of the infraction, and the duration that the set point was exceeded.
The Pro version of the program also provides users with the added capability of receiving a detailed trip report via Email that displays a map with drop pins indicating location of the vehicle when application was initiated and shutdown, a list of the set points, summary of violations and peak speed reached if speed set point were exceeded, the id of the vehicle driven and a detailed list of any violations for that trip.
The diagram (above right) shows a vehicle's movement: Green -Trip Start: May 14, 2010 3:41 PM; Yellow – Speed Violations: 5 – Top Speed 64 MPH; Pink – Excessive Braking: 5 (max 0.30); Red – Trip End: May 14, 2010 3:51 PM.