Gail Chiasson, North American Editor
San Francisco-based Weather Underground has launched its popular, award-winning mobile application, WunderRadio, for the Android platform.
Android owners can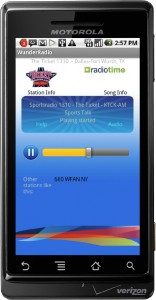 now listen to more than 50,000 Radio Stations and Shows on WunderRadio. The app, available in the Android Market for $6.99, provides users with the same interactive features and reliable radio streams that iPhone, BlackBerry and Windows Mobile owners already enjoy.
Awarded the title of Best iPhone Radio Application (terrestrial division) at last year's MacWorld Expo and dubbed the 'Best radio hub around' by Rolling Stone magazine, WunderRadio has already been downloaded by over 400,000 iPhone users who use it to listen to AM/FM and Internet radio stations from around the world. The Windows Mobile version of the app won Handango's award for Best Entertainment App in 2009.
Android owners can now browse the enormous directory provided by RadioTime, to find radio stations that meet their needs and tastes, searching by location and over 400 different genres such as music, talk, sports and entertainment. Users can save presets for faster tuning to their favorite stations and use the RadioTime Guide to automatically detect what is airing on their local stations, browse by affiliates like the BBC, AOL Radio, Bloomberg or Sirius, and search for specific programs or on-air personalities.
"The multi-tasking capabilities of the Android platform showcase the many interactive features of WunderRadio," said Josh Carroll, president of Jeyo, the developer of the Android version of the software. "Users can access the built-in Twitter directory to connect with an on-air DJ, while streaming their favorite station in the background, and never miss an e-mail or phone call."
WunderRadio for Android easily connects to a Bluetooth speaker system or headset. It also allows users to listen to radio in the background while using other apps on the phone and smartly handles incoming calls. When listening to music, the app provides the user with song information and convenient links to the iTunes Store.

"With the addition of the Android version, WunderRadio is now accessible to the majority of smart phone users and continues to set a new standard for listening to radio on mobile devices," says Alan Steremberg, president of Weather Underground, the developers of the original application.