Gail Chiasson, North American Editor
We were lucky to get a preview of Budweiser's new interactive musical floor last night, prior to its installation for the next five weeks at Montreal's Jean Drapeau metro station.
It's the product of the
young Montreal company Space & Dream, and, while it reminded us in some ways of GestureTek's floor displays, this interactive floor display was totally developed in Montreal, using Space & Dream's own Taction and Hydra software programs.
La Brasserie Labatt's brand Budweiser is closely associated with the live music scene through partnerships with major concert events like Osheaga and Heavy MTL. Labatt learned of Space & Dream's technological innovation after Brad, its ad agency, was asked to locate a promotional opportunity that would not only likely have people talking, but would get them moving once they see it. The result is the immersive world of the Studio Bud Musique.
To be inaugurated on July 1 at Jean-Drapeau métro station, the waystation for fans of live concerts presented on Île Ste-Hélène, the Studio Bud Musique is similar to a life-size Rock Band game, with the players themselves becoming the instruments as they perform a rock song. The application is an interactive musical floor, containing a game that combines sound and projected images on an 8' x 8' surface. The player-musicians must display agility and concentration as they try to keep the beat and get to the next musical level as the level of difficulty increases.
Each of the four distinct zones on the musical floor is associated with a specific instrument: drums, electric guitar, lead guitar and electric bass. Players must follow both visual and auditory cues to maintain the musical flow; the beat also changes depending on the players' movements. To keep the challenge interesting, each set of players is randomly assigned one of three different pieces lasting four minutes. To top it all off, at the end of the game, the players' reward is the sound of a crowd going crazy, just like at a real rock concert.
When activated, the visual elements projected on the floor trigger the audio elements, creating a close link between the player's position and the musical environment. Thanks to a one-of-a-kind infrared motion-capture system, players directly influence both the music and the floor projections. Directional speakers deliver sound to each zone of the interactive floor to heighten the immersive nature of the experience.
"We wanted to provide a never-before-seen experience to Budweiser drinkers in Québec by blending music, projection and video game to create a highly interactive environment,"
says Stéphanie Trudeau, vice-president public affairs, La Brasserie Labatt.
"The Studio Bud Musique delivers all that, putting the players right at the heart of the action."
"Space & Dream's vision is to popularize immersive entertainment," says Guillaume Langlois, founding president and owner of the company with several associates.
The three-year-old company's got its public start with Virgin Galactic and Philippe Starck when it produced work for Louis Vuitton stores on the Champs Elysées in Paris. Lately, at Montreal's Festival des Lumières, it was involved with the Ambiosphère L'Oréal: a 70' ball which could accommodate 300 people and on the inner wall of which six high-performance synchronized projectors spun into action taking people into an intergalactic experience.
The Bud Music display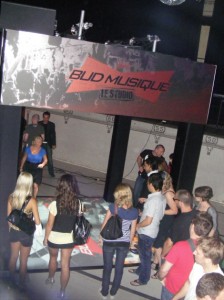 involves two Sanyo digital projectors, but Langlois says that the software can use any type and number of projectors and much larger displays.
"We were limited to 8' x 8' only because of the size of what we could put in the metro station," he says.
Langlois, who considers Luc Courchesne, noted visual art and design professional and professor as his mentor, is an engineering graduate from the Ecole Polytechnique of the Université de Montreal and has built his team (of a current eight members) from young graduating engineers.

"We've got a great team of warriors, of samurais," Langlois says. "We developed and produced the Bud Music display in a month and a half – a week before the original deadline. Our dream is developing and working in completely immersive entertainment environments. We're looking forward to developing fully immersionable games on sides of buildings, among other things,"
Hosts will be permanently on hand at Jean Drapeau station to encourage players whenever the Studio Bud Musique is in operation.
Project management was by Mégapose and the media placement was arranged with Métromédia Plus which handles advertising in Montreal's metro system.