Gail Chiasson, North American Editor
Clear Channel Outdoor Canada has been named the exclusive advertising agent for spectacular and digital advertising opportunities by YongeDundas Signage Trust, the new owners of the signage assets at 10 Dundas Street East, (formerly Toronto Life Square), Toronto.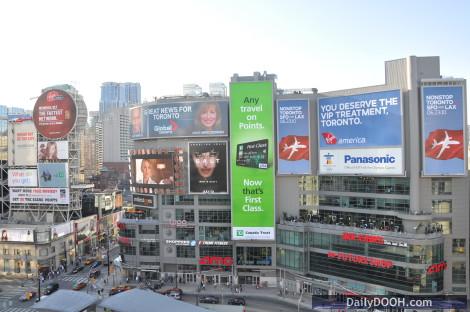 Located in Dundas Square, 10 Dundas Street East was designed specifically to include spectacular signage on the exterior façade along with the largest commercial digital display in Canada. Launched in 2006, 10 Dundas East hosts 23,000 square feet of spectacular advertising signage and includes Canada's largest curved video board and contoured Tri-vision.
Advertising on the building's façade had been previously handled in-house under the former owners, says Freeman White, Clear Channel Outdoor Canada's vice-president sales development. YongeDundas Signage Trust decided it wanted an outside company to take over and handle the advertising sales.
Clear Channel Outdoor owns the Atrium on Bay Media Tower on the Northwest corner of the Yonge/Dundas intersection and has pioneered the redevelopment of this iconic location. Over time, Dundas Square has developed as an advertising landmark similar in stature to other world famous locations including Times Square, New York City and Piccadilly Circus in London. Clear Channel also handles advertising inside the nearby Eaton Centre shopping complex.
Most of the out-of-home signs being taken over are static backlit boards although the one surrounded by tiles in the above photo is a digital board – as is the second screen below the circle on the building to the left.
There are other digital screens in the area owned by Outdoor Broadcast Network, Titan and Rogers, helping make the whole city sector one of the most sought-after by advertisers in Canada, says White.
Next to the Toronto Eaton Centre, Yonge Dundas Square is at the heart of the city and is the preferred location for many special events throughout the year. With over 120,000 people in the area daily, the audience is equal in scope to the Gardiner Expressway and other major arterial roads in Toronto.
John Jory, Clear Channel Outdoor's Canadian president says the addition of 10 Dundas East is a major milestone for the company.
"We believed in Dundas Square and built advertising infrastructure when the area was run down and neglected," says Jory. "Today, it has become a major focus for the advertising community, and will continue to be so".
Clear Channel Outdoor Company Canada operates airport, spectacular, mall, transit and specialty media and is a leader in Canadian out-of-home advertising.