Dylan Jones, Jones Digital Media
Today, after decades of abuse and over-exposure on a global scale,  the News Ticker quietly passed away.
The last known Ticker in existence apparently ticked its very last headline sometime around 3am Friday morning on a digital screen inside an empty sports bar in Fort Lauderdale, Florida.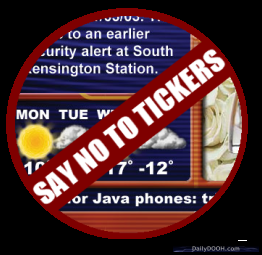 It's sad demise was a symptom of it's own success. "Over used, over exposed and over-here" was an oft heard comment from members of the public who soon grew weary of truncated headlines that made no sense, news they already knew, and celebrity gossip that no-one cared about.
The News Ticker was blessed with semi-illustrious career, firstly airing innocuously on cable news channels such as CNN, MSNBC and FOX News. However, the Ticker was ambitious for exposure and soon made its presence felt outside the home, following people wherever they went with a constant barrage of dated information and useless trivia. Experts speculated that the beginning of the end for the Ticker was firmly rooted in the emergence of mobile devices that allowed consumers to access this type of information for themselves, 24/7. It was a deathblow from which the Ticker would never recover.
However, no one will mourn the passing of the Ticker more than the companies who helped spread its influence onto digital signage screens in every corner of the world. It would be a futile exercise to name these companies (they know who they are) their agony is punishment enough as they  soldier on, tickerless. Many are now compelled to attend a compulsory rehabilitation process designed to help them make amends to the ones they hurt the most, their viewers, and start afresh, developing content that consumers might actually want to watch: for some, of course, this maybe too little too late.
The ticker will also be remembered for the famous 'TickerGate' scandal several years ago when a maverick tech-op at a Walmart Super Center in Birmingham, Alabama rigged the news ticker on the checkout-line screens to read "free tube socks with every pair of camouflage pants" . This high-tech high-jinx caused a stampede to the apparel aisle which resulted in several shoppers being treated for minor injuries and a surplus of size 10 cotton socks that was finally remedied with a rush delivery from China.
A lesser-known malaise also accompanied the news ticker. Coined "Ticker Dependency" by psychological experts at the University of Phoenix, this was a particularly distressing illness that caused multiple digital signage operators to become overly dependent on their daily 'hits', leading them to neglect the more substantial content pieces they should have been developing.
'The Ticker Ten Step' was the laborious process of weaning networks off their daily addiction and eventually gained global notoriety when industry blogs such as Digital Signage Insights and DailyDOOH dedicated valuable resources to stamping out this 'gateway content' that if left untreated would delude networks into thinking they were providing real content, when in reality it was a mere band-aid that would ultimately and painfully need to be removed.
As the memories of the Ticker slowly fade into the background, it will be remembered as a star that shone to brightly too soon. With judicial use as part of an overall programming strategy, perhaps the Ticker's checkered past could have been re-written, but for now let's just say the news ticker did go gently into that dark night, fading slowly out of the lower-third of the screen with barely a whimper or a headline of protest. We'll leave the last word to the ticker as it pens it's own obituary….
"… News ticker dead, millions affected … Lindsay Lohan to do jail time …."