Gail Chiasson, North American Editor
Travelers passing through American Airlines Terminal 8 in New York's JFK airport from now to Sept. 24/10 will come across a first-time technology experience that educates consumers about how their cities can be smarter.
Developed for IBM by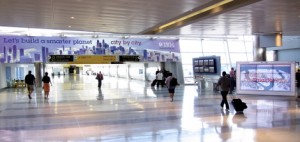 Ogilvy & Mather, New York, in partnership with Monster Media, Orlando, the display includes 30 videos and other creative elements. In an 8' x 12' interactive display, people can experience the transformations that IBM brings to key systems in U.S. cities such as transportation, energy & utilities, public safety, healthcare, education and economic development.
Combining multi-touch technology, gesture triggered activation, audio, video and a text-to- mobile 'call to action' feature, the customized digital experience from IBM combines all these technologies in a single experiential display.
"In a complex environment like a city where different systems have to act as one and be as efficient as possible, bringing technology to city officials and governments is only one aspect of the education required," says Pam Kaplan, vice- president, market management, IBM Global Industries. "We created this interactive experience in one of the most traveled locales in the world because, if members of society understand how smarter cities can affect them personally, they will influence change within their own communities."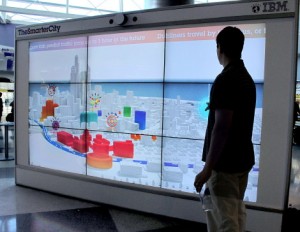 The multi-functional board and its white cityscape become activated by the motion of airport travelers passing by and vibrant colors start filling in various parts of the city. In addition to animations, the unit also features an audio 'call to action' encouraging travelers to explore and learn from TheSmarterCity. The touch capabilities of the unit offer in-depth content and allow people to select areas of interest and learn about real-world examples of how IBM is building a smarter planet today.
"IBM has a tremendous depth of learning and experience in helping cities and their leaders build smarter solutions to how cities work," said Lou Aversano, Global Managing Director at Ogilvy & Mather Worldwide "Using innovative channels, like this one-of-a-kind display, provides an engaging environment to share these stories with business leaders and consumers and allow them to delve deeper into the ways in which IBM's Smarter Cities efforts are changing the world."
The unit also features a rotating ticker at the top of the unit that reveals statistics about cities today such as: 'By 2050, 70% of the world will live in cities' and 'NYC's Real Time Crime Center is helping cut crime by 27%'. Interspersed in these stats is also a mobile call-to-action that allows the viewer to text 'smarter' to a number. The response to the text is a message that provides a link and encourages the viewer to visit the full, flash-based experience in their free time at www.ibm.com/thesmartercity.
"The out-of- home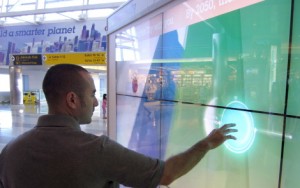 environment is one of the most innovative places for marketers to create unique brand experiences today," says Chris Beauchamp, CEO, Monster Media. "Using new technology and situational environments where consumers are looking for an interactive experience – such as an airport – we are able to deliver measurable results."
TheSmarterCity touch enabled unit also offers real-time analytical capabilities providing continuous insights on user engagement, powered by Monster Media's proprietary campaign tracking system. The system measures every single touch and interaction on the board as well as duration of time spent with the content. This up-to-the-minute tracking capability will allow for continuous learning on performance and optimizations to the experience and its content.
IBM first launched TheSmarterCity in Dec./09 as an online interactive experience that supports IBM's Smarter Planet initiative.