Gail Chiasson, North American Editor
This app reminds me of the Boy Scouts, but it's most definitely for adults!
Molson Canadian, one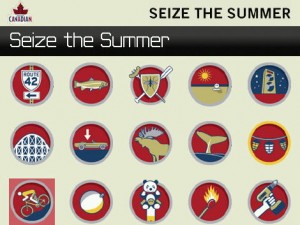 of Canada's top selling beers, has developed a new mobile app that lets you earn virtual badges every time you do something that makes your summer great (eg. catch a fish; go on a road trip; etc.).
Every badge gets posted to your Facebook page and gets you a chance to win one of 16 amazing cross-Canada trips.
Imagine being rewarded for eating tiny donuts, wearing shorts, portaging a canoe, inflating a beach ball or for simply doing nothing.
Molson Canadian is making it possible with its new Molson Canadian Seize the Summer App. The app enables you to collect virtual badges on Facebook or through your smartphone (including, Blackberry, Android device and coming soon to iPhone) simply by participating in summer staples for the chance to win one of 16 awesome trips to cities in Canada to attend Molson Canadian-sponsored events.
"Molson Canadian is the beer that helps people embrace the freedom of the great outdoors," says John Francis, brand manager, Molson Canadian. "Our Seize the Summer App rewards Canadians for making the most of what our country has to offer."
The more badges you earn, the better the chances to win. Contest closes August 27/10.
Creative was by Crispin Porter & Bogusky Canada, MyThum Interactive developed the app and Mediaedge:cia did the media buy.