Gail Chiasson, North American Editor
Locals and tourists attending Montreal's annual Osheaga musical event last weekend were treated not only to music but to an interesting projection by Budweiser on the convered water tower now a lookout site known as Lévis Tower.
Budweiser was a partner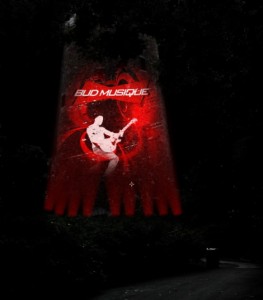 again this year in the Osheaga musical happening, held July 31 and August 1 on Île Sainte-Hélène, site of the 1967 Montreal Expo World's Fair. For this event, the Bud Musique team concocted a unique projection that was beamed onto Lévis Tower. The projection was highlighting a current Budweiser promotion that enabled 64 winners to camp out in traditional teepees right on the Osheaga site at the 'Bud Village' and to enjoy VIP treatment, with access to the Budweiser Zone, to all shows and to a private party being held July 31 in the Lévis Tower.
The promotion, devised by Montreal-based agencies Mosaic (experiential), Brad (creative) and Marketel (which handled the media buy), had been conducted via Facebook and the NRJ radio stations in collaboration with Couche-Tard convenience store chain. Winners received all the equipment needed for an unforgettable camping experience on the site along with enjoying various entertainment activities along with special access to see Arcade Fire, Weezer, Pavement, Metric, The Black Keys and all the other invited artists.
As the central point of Bud Village, the Lévis Tower was transformed into a Bud Musique bottleneck using Coolux, a new leading-edge technology in architectural projection. This projection simulated the look of liquid, beer bubbles and water droplets sliding down the neck of the bottle to create a unique decorative item. DJ provided music both inside and outside the Lévis Tower.
In addition, when visitors arrived on Île Sainte-Hélène, they were able to spend some time as well at the Jean-Drapeau métro station to experience Studio Bud Musique, an interactive musical floor resembling a life-size Rock Band game. (See DailyDOOH's June 29, 2010 article)
Osheaga is a unique and eclectic music and arts festival inaugurated in 2006 with the intention of offering a world-class European-style festival to Canadians and to showcase Montreal's acclaimed local talent alongside some of the industry's biggest names. The artist line-up is designed to present a mix of today's most avant-garde emerging artists juxtaposed against internationally known artists.
In its first three years, Osheaga has been an unqualified success, attracting over 70,000 music fans to the various sets.