Gail Chiasson, North American Editor
While most applications are being developed specifically for smart phones, Indianapolis-based ChaCha, is launching its new multimedia content for even most of the 75% of mobile phones in the U.S. that aren't smart phones.
ChaCha, a popular free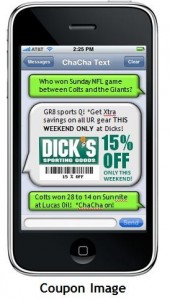 answers service that has delivered quick, accurate answers to nearly one billion questions, has now launched a Multimedia Messaging Service service that will support videos, including movie trailers, and images such as coupons and logos, on nearly all mobile phones. Answering over 2 million questions every day, ChaCha will be capable of sending rich media content and advertisements through MMS to further engage its audience of more than 15 million active monthly unique users.
"This is a big deal for both our advertisers and users," says Scott Jones, ChaCha's chairman and CEO. "Many marketers view sight, sound and motion as major enhancements to their brand's message, and we are now in the ideal position to support these objectives in mobile channels. Smartphones have whetted the consumer's appetite for mobile, rich-media content. MMS allows media to finally reach virtually all mobile phones in a way that advertisers can have their messages seen and heard. Our users will benefit regardless of their phone type."

U.S. MMS volume hit an average of 5 billion messages sent per month by the close of 2009. With MMS, the 75% of consumers who do not own smartphones are able to view multimedia content right along with the 25% of early-adopting consumers that already have smartphones.
MMS is typically included in carrier messaging plans, with no additional cost to consumers. This provides significant reach and media benefits for advertisers. For the past two years, nearly all phones shipped in the U.S. have been enabled with MMS capabilities, equating to nearly 275 million consumers.
ChaCha is a leader in consumer engagement. In 2010, company management says that 73% of ChaCha's mobile advertising campaigns resulted from renewals because engagement and response rates are demonstrably higher on ChaCha, as evidenced by numerous case studies across multiple channels.
ChaCha is offering brands a variety of ways to leverage MMS including:
Deploying existing rich media content such as sports highlights, video ads, movie trailers, interview clips, music videos, logos, photos, contests and more;
Providing users with a text response code within a text message that launches video when consumers respond.;
Showing a coupon for immediate local redemption using barcodes.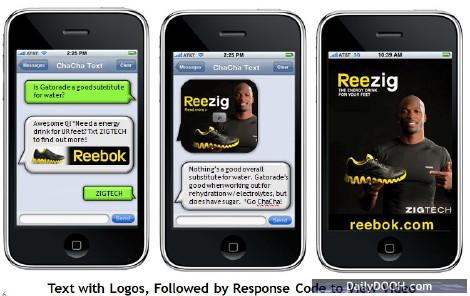 "ChaCha has grown to be the 'smart friend' millions of people turn to for all their answers, and now marketers can leverage these relationships by inserting media-rich ads in response to specific questions or keywords," says Jones. "ChaCha MMS also enables marketers to capture device information so that audiences can be segmented by region, handset, or interest to achieve the highest return on investment. We are the only mobile answers service powered by humans, and are now the only one to provide MMS mobile advertising for our partners within an engaging one-to-one conversation."
ChaCha is considered a key means for advertisers and marketers to engage teens and young adults. Through its unique "ask-a-smart-friend" platform, ChaCha has answered nearly one billion questions since its launch from more than 15 million unique users per month via SMS text online, Twitter, Facebook app, iPhone app, Android app, and voice. Working with major brands such as: Paramount, AT&T, Palm, Johnson&Johnson, Procter & Gamble, Coca-Cola, McDonald's, Sonic, and presidential political campaigns, ChaCha.com is one of the fastest growing mobile and online publishers, according to Nielsen and Quantcast.
ChaCha was co-founded by primary shareholder Jones. (Co-founder Brad Bostic is no longer with the company.) ChaCha is funded by Bezos Expeditions; Morton Meyerson (former president and vice-chairman of EDS as well as chairman and CEO of Perot Systems); Rod Canion (founding CEO of Compaq Computer); the Simon family; and Jack Gill (Silicon Valley venture capitalist). (All visuals in this article are mock ups for illustration purposes and not real campaigns. Ed.)