Gail Chiasson, North American Editor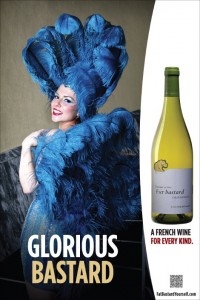 No, we're not being a Smart Ass in asking the question: It's the question being asked in an out-of-home campaign for Fat Bastard Wines' producer Gabriel Meffre and Diamond Estates Wines & Spirits, of Toronto.
While not using digital posters, the 24" x 36" static posters are equipped with a QR code for smart phone users to link into a website and even create their own version.
The campaign is appearing on construction hoarding at multiple locations in Toronto and Vancouver this week.
Hoarding 'billboards', 6' x 8' in size, will be created, featuring multiple posters that depict different kinds of Bastards, such as Sexy Bastard, Funny Bastard, Lazy Bastard and even Glorious Bastard. A total of 32 posters will be interspersed throughout the 4-week campaign.
Each poster has unique imaging with the tagline 'A French Wine for Every Kind' and a QR Code embedded to invite passersby to use their smart phones to check out the URL www.FatBastardYourself.com.
At the website, visitors can create their own Bastard posters and share with friends via the website, email and Facebook – We can't wait to see which will come first: the posters being stolen as keepsakes or complaints to city authorities or advertising watchdogs, Ed
The campaign was developed by Gilbert + Davis Communications in Toronto.
"The central approach is a print campaign based on demonstrating 'living large' and celebrating bastards," says Wendie Scott Davis, vice-president and creative director of Gilbert + Davis.
"The campaign shows both males and females 'living large' as individuals, such as a Yodeling Bastard, Musical Bastard, Vintage Bastard, or Snazzy Bastard."
Murray Marshall, president and CEO, Diamond Estates Wines and Spirits, says, "Our goal for the campaign is to instill in these urban populations that Fat Bastard is a French wine that can be enjoyed by every conceivable type of person, that it is indeed a wine for everyone."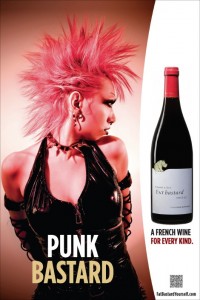 Fat Bastard is available in LCBO (Ontario) and BC Liquor (British Columbia) stores, as well as others across the country in varietals including Merlot, Shiraz, Cabernet Sauvignon, Pinot Noir, Chardonnay and Sauvignon Blanc.
Fat Bastard is produced by the French company, Groupe Gabriel Meffre, whose winery was founded in 1936. The Fat Bastard line, created in the late 1990s, quickly became a reference for fun, unpretentious varietal wines of excellent quality, crafted in a fruit forward and expressive style. The brand now sells over 4 million bottles per year in more than 16 countries.
The Diamond Estates sales agency based in Toronto and Niagara markets Canadian and International wines and spirits to liquor boards and licensed establishments throughout Canada.