Gail Chiasson, North American Editor
The Digital Signage Federation, independent not-for-profit trade organization serving the digital signage industry, has launched an initiative specifically to reach out to chain restaurant operators to offer assistance in understanding how digital signage can help them find affordable business solutions to deal with the new FDA menu regulations.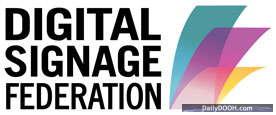 In-restaurant digital signage in the QSR and Fast Casual segments is becoming a popular and cost-effective way to deal with the new FDA regulations that require operators to publish nutritional and calorie information on menu boards. The guidelines currently apply to chains with 20 or more locations, but those watching the legislation suggest that there will be an 'opt-in' program requiring owners with less than 20 locations to file with the FDA.
While these standards are still pending and won't be finalized until March, 2011, the DSF will provide restaurant operators with a page on its website where they can familiarize themselves with the basic benefits of digital signage, consult a brief check-list overview of what to consider in the purchase process of digital menu boards, and have the option of posting general questions to DSF's Advocacy & Outreach-Committee to help point them in the right direction.
You can download the PDF here.
Jack Sullivan, chairman of the DSF Advocacy & Outreach Committee sais, "We want to help facilitate the business discussion between chain restaurant operators and our members and make it easy for those who will be affected by this legislation to understand that there is a cost-effective solution. They can educate themselves, have the questions in-hand that they need to ask, and contact any of our members, all online on the Digital Signage Federation website."