Adrian J Cotterill, Editor-in-Chief
We understand that Mercedes Belgium have bought this advertising space at the airport via JCDecaux for 6 months. Every two months a different car will be shown on the Digital Stand as shown below…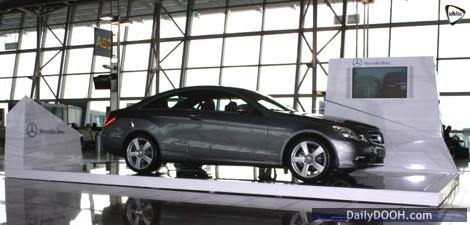 The stand includes two HD screens and a register module using iDklic's new iPad application (the stand of course has internet connectivity to schedule the screens and monitor the iPad data).
iDklic was responsible for the Digital Signage technology, the iPad application and the overall concept of digital communication.
Jean-Charles Figoni, Managing Director, iDklic told us "iDklic was selected based on our innovative iPad concept and approach, knowledge of the Mercedes brand and our capacity to create a complete iPad application in less than 2 weeks".