Adrian J Cotterill, Editor-in-Chief
In the UK T-Mobile is running an extensive Top Up Friday Campaign across lots of media – in digital out of home Avanti Screenmedia had it first (I think on their buses but that's not confirmed yet).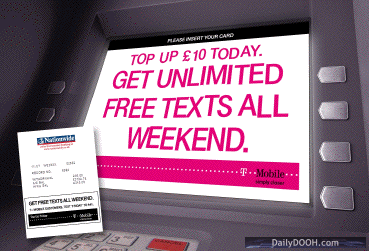 Sam Taylor, Head of Advertising and Sponsorship at T-Mobile UK, explains "To get free weekend texts customers need to top-up £10 on Friday"
This Autumn it will be running across the ATM:ad 850 strong cashpoint network.
It has already ran in September (on Fridays of course) and will also be running on 5 and 26 October and 3 November on all 'through the wall' Nationwide Building Society branch ATM's.
In addition, it will run two x two-week campaigns from 22 October to 4 November, and from 3 to 16 December on cash machines in London Underground stations and in shopping malls nationwide.
The campaign was planned and bought by MediaCom Outdoor and should deliver 2.35 million advertising one-to-one's.