Gail Chiasson, North American Editor
Consumers moving through New York's heavily trafficked Pennsylvania Station this month are likely to find themselves 'welcomed' on one of eight digital screens.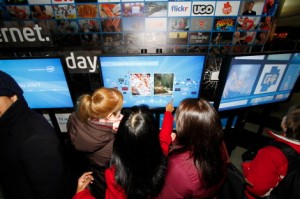 They are the recipients and users of CBS Outdoor's 'Interactive Consumer Experience', or what Alvaro Muir, the company's new vice-president digital media (see related post here) calls 'ICE'.
The experience in this case involves an ad campaign for Intel's Internet-enabled TV service and, in what may be a first, personal recognition that relies strictly on mobile. Whereas most personal recognition campaigns involve a photo or some kind of visual recognition, this initiative is based strictly on an app downloaded on a mobile device sometime over the past month. It also involves multiple business partners including OMD for media, Outdoor Media Group, DDB Tribal for the advertising content, Location Labs for mobile location-based technology and Four Winds Interactive for the software and interactive touchscreen experience.
Billboards, transit and Penn Station itself had recently been plastered with print advertising encouraging people to download a specific mobile app through texting Hello to 64444. At that time, they were asked several questions involving their TV viewing and the type of entertainment that they prefer: comedy, music, TV shows, sports, movies or food.
Now, when those people are in the vicinity of Penn Station, they receive an alert on their smart phone, and when entering the Penn Station, there are eight screens – placed behind the Amtrack rotundra – that recognize that the person who downloaded the app is in the area and welcome him or her by name. (It can involve any one of the eight screens.) That person is then able to play with the touch screen, learning about what Intel's TV offers according to the earlier downloaded fields of interest.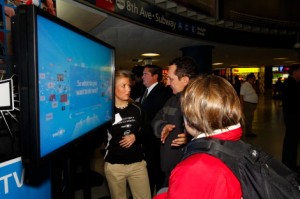 An Intel field team is on site to assist with information if necessary. The screens run on 20-second intervals, but once a person stops at the screen welcoming them, they could spend as long as four minutes going through the touch screen's full information.
"Most people spend about one minute," says Greg Newman, director of implementation, Four Winds Interactive. Newman said that this was the first time that the five-year-old company had worked with geofencing, which it did in association with Location Labs. Geofencing creates virtual boundaries by physical locations and places.

"We anticipate these kinds of futuristic campaigns to revolutionize the advertising and marketing industry." says Tasso Roumeliotis, founder and CEO, Location Labs.
This is a look into the future on how we can connect to consumers on a far more personalized basis. says Jodi Senese, executive vice president, CBS Outdoor.
"Never before have we been able to offer this kind of engagement, on this many platforms to our clients," she says. "Working with Intel and its agency partners, CBS Outdoor has crafted a truly unique promotion that offers users a one-of-a-kind experience."
Newman says, "The use of digital signage in an ad campaign of this magnitude is a testament to its place as a communication medium."