Gail Chiasson, North American Editor
Santa Clara, California-based Magellan, a pioneering GPS brand of MiTAC Digital Corp., has introduced of the Magellan eXplorist 310 GPS receiver, a power-packed, waterproof, and rugged handheld GPS designed for essential outdoor navigation.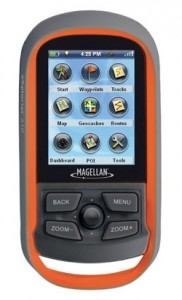 The newest addition to the eXplorist family of dedicated outdoor GPS receivers, the eXplorist 310 provides outdoor enthusiasts with many of the features found in higher-end devices, including a premium world map and the ability to upload detailed topographic maps. Whether for an avid outdoorsman navigating to a favorite fishing spot, an up-and-coming geocacher graduating to more complex finds, or an experienced backpacker looking for a powerful, yet light and portable GPS receiver, the eXplorist 310 is the perfect companion for hundreds of outdoor activities.
With a vibrant, 2.2-inch transflective color screen, a highly sensitive GPS chipset providing 3-5 meters of accuracy, and the ability to record hundreds of waypoints, tracks, and routes, the eXplorist 310 GPS receiver provides all the essential navigation features required to venture into the great outdoors.
It comes pre-loaded with Magellan's World Edition maps that include the road networks in more than 200 countries. The device supports 10,000 paperless geocaches, and users can expand the map detail and coverage by adding regional versions of Magellan's Summit Series topographic maps. Users start each adventure with a single click, record every step, and monitor their progress by viewing the track summary statistics or quickly find their way home using the backtrack function. Two AA batteries provide up to 18 hours of continual outdoor use.
"The eXplorist 310 is a key addition to our outdoor lineup as it provides users with a high-quality navigation device at an outstanding value," says Justin Doucette, director of product marketing for Magellan GPS. "From novice to expert, Magellan now offers the right handheld GPS receiver for anyone who ventures into the outdoors anywhere in the world."
The eXplorist 310 will be available in March 2011 for approxiately US$199.99. Other high end eXplorist models, introduced earlier, range from $349 to $549.