Adrian J Cotterill, Editor-in-Chief
"Dude, what have you done with my car?" was my very first thought when I was pointed at this late last week. There's no better car than a Mini Cooper to showcase all things (and you know our love for the Mini knows no bounds) but that LCD on top? Umm we are still in two minds about this at the moment…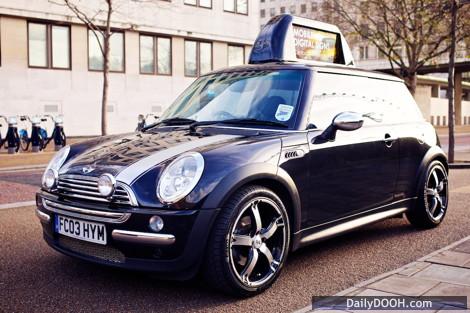 Anyway, meet iTaxitop a bright double sided mobile digital advertising screen that sits on the roof of a car (it doesn't have to be a Mini). Relative newcomer to the industry Eyetease Media describe "Its LED backlit LCD screen enables dynamic colour adverts to be seen in bright daylight or the dead of night".
Founder and CEO of this new business is Richard Corbett who has been hard at work on this for the last year and a bit.
Described by him as "Europe's first location and time-specific mobile digital billboard proposition" he obviously didn't do his research very well as he seems to have failed to come across CBS Outdoor's digital bus sides (James Davies at Posterscope and folks used to make much of the GPS ability to vary adverts whilst in transit) and of course numerous failed or failing ventures such as Cabtivate and Cabvision.
Whilst this looks great and the technology is 'cool', it will be a lot of hard work to persuade media buyers that this is a valuable proposition.