Scala is now offering the measurement capabilities of Intel® Audience Impression Metric (Intel AIM Suite), with its Scala Ad Manager advertising management software.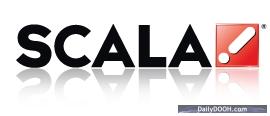 The underlying technology for Intel AIM Suite is Anonymous Video Analytics (AVA), which uses the Intel Core processor family and small optical devices connected to a digital sign. Intel AIM Suite software uses anonymous face-detection algorithms to aggregate data on number of people viewing the sign, length of attention and gender and age bracket. It does this while maintaining complete anonymity and consumer privacy.
"By loading Ad Manager with data collected using Intel® AIM Suite, advertisers will be able to better target future advertising campaigns," said Jeff Porter, Executive Vice President of Scala. "By combining this with other data such as geographic location, household income and traffic data, systems will be able to more effectively target desired audiences."
When integrated with Intel AIM Suite, Scala Ad Manager can help users gauge the effectiveness of their digital ad content by measuring the time spent looking at displays and determining how well an ad captures the attention of an audience.
Jose Avalos, worldwide director of retail and digital signage, Embedded Computing Division, Intel Corporation said, "These metrics will help accelerate the growth of the digital signage industry by allowing advertisers to more accurately track return on investment and determine campaign effectiveness while at the same time providing a more personalized experience to the consumer."