Adrian J Cotterill, Editor-in-Chief
CLX Media announced this week the launch of OMNI network – what we believe to be the first digital place-based advertising network with national reach in Ireland.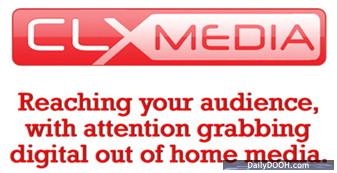 CLX Media CEO Greg Birdthistle told us "This is the first time advertisers can, through one single source, reach consumers where they live, work and socialise across the country. Until now, there were only limited, regional options and a company had to coordinate with multiple operators and they would still get far less coverage than OMNI has."
OMNI currently has 850 screens showing 17 million impressions to 8.8 million people each month, and continues to grow. Currently available OMNI channels include Credit Union, Retail, Travel, Interactive and On-Street, and more are planned in the coming months.
Birdthistle explained "Each channel has its own screen locations and audience demographics, and the programming and adverts are tailored to match the audience it will reach. Viewers get something interesting to watch, and are then presented with advertising about products or services they may be interested in based on where they are and what they're doing. Digital placed based advertising is very much the fourth screen, with television, the Internet and mobile devices being the other three."
"We're excited to provide a service on a national level that benefits both our audience and our advertisers," Birdthistle said. "Now Ireland's consumers and visitors will have more information and entertainment freely available in the places they go throughout the day, and companies can educate the public about new products and services they are interested in".
CLX Media is an Irish-based digital media network operator providing Digital Place-Based Advertising to companies who want to reach their target market in the right place at the right time. For more information on the benefits and reach of Digital Place-Based Advertising and CLX Media's OMNI network, please contact Greg Birdthistle, 087 2289712