Adrian J Cotterill, Editor-in-Chief
A new digital signage software/player/screen bundle from signagelive that simplifies and fast-tracks deployments – at half the cost of similar offers – will have its debut at next week's #ScreenMediaExpo we are told.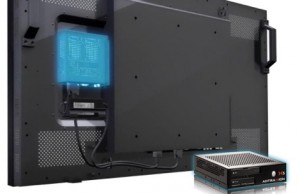 The bundle combines signagelive's web-based software with a 42-inch Philips commercial LCD and a powerful, small form-factor Advantech PC that fits into a universal slot in the rear of Philips 'Smart Insert' displays.
Jason Cremins told us "We've seen solutions come on the market that have put some disparate elements together into bundles that are marketed as fast and easy, but there's been a problem. The solutions we've seen either require a series of compromises, or the overall price is off the chart in terms of cost. This new bundle, we think, ticks all the proper boxes."
Cremins says the bundle's overall cost is roughly 50 per cent that of competing offers on the market, and comes with a three-year warranty and ongoing signagelive support.
The bundle is the centrepiece of a very active stand presence planned for #ScreenMediaExpo
The stand has a large live demo area intended to show signagelive's open architecture solution for scheduling and managing ad-based, retail and private communications networks of any scale.
Among the highlights:
The first public showing of Philips' BDL6540AT 65" new open pluggable specification-enabled display, which has an easy-install, rapid-service docking slot for PCs;
Philips BDL5231VS 52" glasses-free autostereoscopic 3D displays;
Philips HalO edge-lit displays that frame displays with cool, configurable light effects;
A multi-touch display table application;
A four by 46" thin bezel LCD videowall, powered by Datapath's x4 controller. Advantech's ARK-DS303P, which uses a Broadcomm chip optimized by signagelive to run full 1080p 60 fps video and multiple content zones, on a relatively low-powered Intel Atom CPU;
New Advantech ARK-DS520 and ARKDS220 Intel Atom players with Nvidia ION graphics processors, in standalone and integrated "smart insert" configurations;
Advantech dynamically-updated SMIL devices, including a 10-inch XDS-104 screen and player running signagelive's virtual player.             
"We'll also bring a little bit of Glasgow to the show," says Cremins, explaining how the stand will include a display unit similar to the Primesight digital out of home advert screens now running in that city's subway system. "We'll be showing live news from Scotland TV and adverts, through our integration with Key Systems' media planning platform."
signagelive's software is also driving the #ScreenMediaExpo trade show communications network this year. Sponsored by display solution specialist Melford, some ten x 50-inch screens located around the hall will feature live Twitter and FourSquare social media feeds, show agenda and general information.
signagelivesoftware is also powering a cascading set of escalator panels demonstrated at Melford's stand, showing player synchronisation to within 1/100th of a second, and a configuration that steadily auto-corrects itself for timing.
Also on display and driven by signagelive, 10 Squared's retail-centric screen fixtures and the first showing of a new iTaxitop offering from Eyetease Media.
signagelive are on stand E15 and Melford are on stand E1.