Adrian J Cotterill, Editor-in-Chief
Bespoke content is being blended seamlessly with live TV feeds, news feeds and of course stock prices on-site at the World's biggest installation of MicroTiles…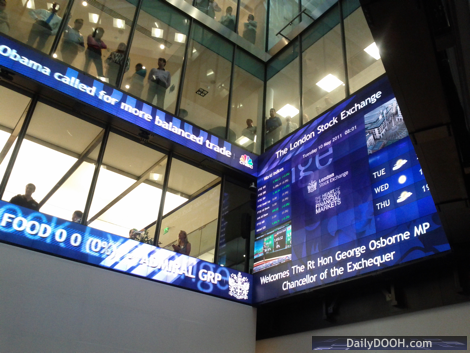 Data displayed on the screens is drawn from 30 different indices from around the world, and the 600+ companies listed on the London Stock Exchange's own main markets. An exclusive partnership with CNBC provides the TV news feed shown on the screens, in addition to the business news headlines and stories from RSS feeds.
Our Technical Director Andrew Neale managed the content delivery, programmed up the playlists, managed the scheduling, oversaw the live data integration and was the man who got the Scala systems feeding the Vista Spyders driving the displays!
Our Head of R&D coded up some widgets that sucked stock prices from LSE's commercial grade real time systems and passed the data into Scala ensuring that it was displayed quickly, correctly and promptly on the 'Fingers'.
I did nothing (as usual).