Adrian J Cotterill, Editor-in-Chief
Screens don't have to be square and they don't even need to be flat. Several people emailed in and asked us what we meant in our post here when we said "that they (MicroTiles) show depth" in the Mosaic layout shown below at the London Stock Exchange…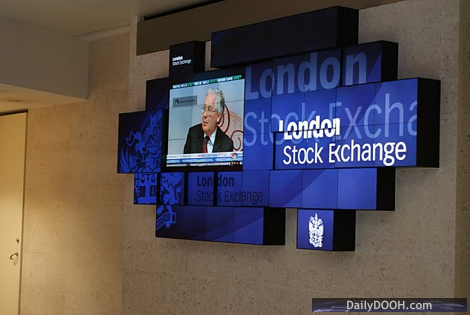 What we meant was that some of the MicroTiles are raised out of the wall more than others, speaking on Skype to Bob Rushby, co-inventor of the MicroTiles we got a much better explanation for what we were trying to get across.
He told us "the Mosiac is inset/outset" and reminded us that this had been done before like at the Russian pavilion during World Expo.
10X6_2H4THT2H_H8TH_10T_10T_H8TH_2HTH4T2H_ describes the Mosaic using the Issy-Neale Formula and the Mosaic was designed by Amigo Digital.
The Mosaic housing was designed and manufactured by 10 Squared Manufacturing who managed to turn the job round in 12 days.