Gail Chiasson, North American Editor
Clare-Marie Harris Panno and Martin Porter are the two newest additions to the U.S. management team of New York-based Posterscope, a leading Out-of-Home communications agency network.
OOH research and application expert Harris Panno has been named senior vice-president director of Insight while digital OOH specialist Martin Porter is the new vice-president director of Hyperspace, Posterscope's digital and innovations division.
Harris Panno will lead the Posterscope USA Insight division in navigating the latest industry research and EYES ON data. She will also be driving the development and growth of Posterscope's proprietary tools and market-leading research, such as the Out-of-Home Consumer Survey, in-depth study of consumer behavior in relation to OOH, which is already in its third wave of data in the U.S. since 2007.
Connie Garrido, CEO, Posterscope USA, says that Harris Panno's extensive background in strategic application development within the OOH industry as well as her in-depth insight into EYES ON data aligns perfectly with the company's mission to further develop its industry leading tools within Posterscope's Prism Suite and proprietary research such as OCS.
"Leading the industry in insight is key to not only allowing us to deliver on our client's objectives but to also revolutionize practices within the OOH industry itself," says Garrido. "Clare-Marie's part in the development of many of the current industry leading tools makes her the ideal person to helping us continue to achieve this."

Harris Panno recently directed the OOH development and product management at Telmar, a leading supplier of media advertising software. At Telmar she was a champion of its Outdoor Planning System, TOPS for TAB, which uses the OOH industry's newest measurement system, EYES ON data. She also played a role in the development and launch of the industry's first custom geo-demographic mapping system at Gannett Outdoor Group, and is a founder of the Media Research Council.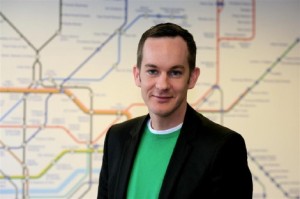 As director of Hyperspace, a specialty division of Posterscope dedicated to Digital Out-of-Home, innovation and technology, Porter will be in charge of leading and driving the growth of the practice in the U.S. Porter will also be working to enhance and evolve Hyperspace's proprietary tools such as Prism Screen, an industry leading DOOH planning and buying tool that analyzes data from digital vendors across the U.S.
"Martin's passion and diverse experience within both traditional and emerging OOH media will help us to enhance the influence of Hyperspace within the U.S. and lead our clients, as well as the industry, to develop truly dynamic executions that take full advantage of the convergence of digital media," says James Davies CSO, Posterscope USA.
Porter comes to Posterscope USA following eight years experience in the OOH sector in the UK where he ran the marketing department and set up a strategy unit at CBS Outdoor. He conducted the marketing launch and positioning of the UK's largest digital network within the London Underground and also developed a pitch process called Pitchlab, which was designed to put consumer insight at the heart of both sales and franchise pitching.