Madrid's public bus company, EMT Madrid, will install digital signage systems on its buses, based on C-nario Messenger software.  Telefonica, one of the largest telecommunications companies in the world, is responsible for the implementation of the project.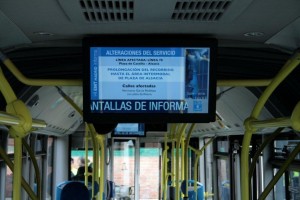 Empresa Municipal de Transportes de Madrid S.A. (EMT Madrid) operates 2,100 buses on 217 lines across Madrid, Spain's capital, serving 425 million  passengers a year.
"The digital signage network in our buses is a tremendous development in both the public transportation sector and the digital signage industry," said Enrique Diego Bernardo, Assistant Director of Technology and Information Systems, EMT Madrid. "Thanks to C-nario's unique platform we succeeded in meeting very complex technological and informational challenges."
EMT Madrid is conducting  a pilot project on 35 of its buses, where three screens were installed in each bus. The screens display various information for the passengers, including timetables, weather information, cultural events, next station's details (including connection to other lines), advertisements and more. Information is displayed without sound, to avoid any disturbance to passengers.
The screens also show the bus's location on the route, based on a GPS system. When the bus approaches a tourist site or attraction, it provides information about it. All information is displayed in Spanish and English.
Following the pilot project and analysis of the results, EMT Madrid will  install digital signage systems in all of its 2,100 buses in the coming years, 600 of them during 2011 and 2012.
"This project reflects the combination of centralized and decentralized digital signage network management, since it allows each bus to display both common information, shared by the other buses, as well as real time targeted information for the specific bus," said Tamir Ginat, C-nario's CEO. "Once again our platform, C-nario Messenger, is achieving a major milestone in the digital signage world, including the integration of GPS-based real-time information with other informational resources."
I shall report back on it if I see the screens on my visit to Madrid for FEPE at the end of this month.