Brazil is finding its place as a major player on the digital signage sector in South America. In fact the Brazilian Out-of-Home Association (ABDOH), has joined  the Digital Place-based Advertising Association [DPAA].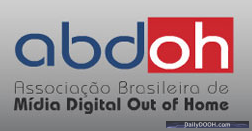 Founded in April 2008, ABDOH's current 16-member organization is comprised of the most influential DOOH operators in Brazil. The mission of ABDOH is to disseminate information about the DOOH industry; enhance relationships between ABDOH members and the advertising community; create standardization of industry procedures; sell products and services and to position ABDOH as a powerful tool to build strong brands.
In the last three years, ABDOH has been developing relationships with many different marketing and technological sectors such as ABA- Brazilian Advertisers Association, ABAP – Brazilian Advertising Agencies Association and The Media Group comprised of Brazilian Advertising Agencies' media professionals.
The ABDOH member network operators have screens in varied venues throughout Brazil: Buses and Bus Stations, Airports, Train Stations, Super-Markets, Retail Stores, Elevators, Bars, Restaurants, Gyms, Cafeterias, Convenience Stores, Malls, Universities, Gas Stations, Hospitals and Doctor's Offices.