Adrian J Cotterill, Editor-in-Chief
Attempting to illustrate the potential of NFC (Near Field Communications) Posterscope (partnering with Nokia, O2, Proxama and JCDecaux) launched the UK's first NFC-enabled poster campaign this week allowing consumers to download a film trailer.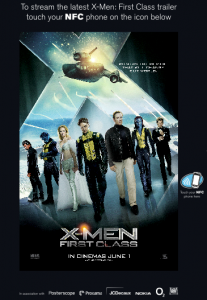 It's a real shame that there are only five central London bus shelter poster sites that make up the trial but James Davies, Director at Hyperspace, Posterscope's innovation and digital division was quick to point out that the main objective at this stage is to demonstrate the most basic level of content to agencies and then talk / convince them about how much further they could go.
Each site has a pre-programmed NFC chip affixed to the rear of the poster
I would like to have seen them come up with something a bit cleverer than a film download – didn't the 'download a film trailer' boom go the way of Bluetooth? but I understand James' point about keeping it simple and it being a technology demo.
James is right in what he says in the press release "What is so exciting about this layer of interactivity is its simplicity and the size of the opportunity for generating scale. There are 130,000 commercially available poster sites in the UK that can be instantly enabled. For the client the cost of each NFC chip is extremely low and the consumer receives instant fulfilment. The potential application of this technology is immense".
There are 130,000 posters out there and somehow the industry needs to come up with some really compelling examples of how best to demonstrate NFC.
The campaign aims to promote the release of 20th Century Fox's forthcoming film X-Men First Class.