The Cannes Lions International Festival of Creativity, which is being held this month from the 19-25, is the world's biggest celebration of creativity in communications. The international advertising awards received more than 24,000 entries from all over the world.
We wonder if any creative agencies in the OOH industry have participated to these awards (now or in the past)?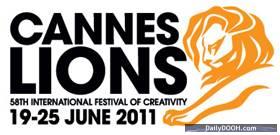 The entries are showcased and judged at the Festival. Winners receive the highly coveted Lion trophy, presented at four award ceremonies throughout the week.
For a second year running, Clear Channel International (CCI) is sponsoring the 2011 Cannes Lions International Festival of Creativity to support and showcase the power of creativity in out-of-home advertising. As well as sponsoring the Outdoor Lions, Clear Channel is hosting a masterclass with AMV BBDO and McCann Erickson at the Young Lions workshops and supporting The Brand Union and Lambie-Nairn, with Getty Images on the CannesAlso exhibition.
Through its sponsorship of the Outdoor Lions, Clear Channel will be supporting the best creative ideas of the last year and the winners will be announced on Tuesday 21 June at 19:00. CCI will also be displaying an awards and digital out-of-home showcase on innovative, interactive screens during the festival.
CCI's Young Lions masterclass, entitled Writing the future, transforming out-of-home, will be run by William Eccleshare in partnership with Tim Vance and Paul Knott, an award-winning creative team from AMV BBDO, Matias Palm-Jensen, Chief Innovation Officer and Gustavo Martinez, Head of Europe, at McCann Erickson.
CCI is also a key supporter of CannesAlso, the free-to-enter, unique exhibition of photography produced by the creative community and judged by world-famous photographer Rankin. The best entries are being printed in The Big Book which will be installed just outside the Palais in the centre of the Festival to showcase the work.
According to the organisers Cannes Lions is the must-attend event for anyone involved in brand communication. So, have you been? would you go?