Gail Chiasson, North American Editor
Montreal-based Zoom Media Group Inc., which is we believe, the world's fastest growing fitness digital media company, has signed an exclusive digital media and advertising relationship with GoodLife Fitness, the largest fitness club chain in Canada with over 275 locations across the country.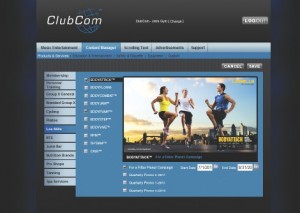 GoodLife and Zoom's current partnership has included static billboards, sampling, and promotional opportunities within GoodLife. With this new agreement, Zoom will install its successful Flexcast digital media suite, including high definition overhead entertainment (video & audio) and digital signage (video) throughout each GoodLife club. The digital network will be privately branded for GoodLife and will be operated by ClubCom LLC, Zoom's digital subsidiary.
This move is part of a major expansion of Zoom's digital network worldwide. In only one week, Zoom's digital network has added not only the GoodLife venues in Canada but also 56 new Cardinal Fitness venues in the U.S. (46 of which are in Chicago) and another 20 for The Gym Group in the U.K. – where Zoom is basically the only digital fitness media company.
"Over the next month we will be installing across all 20 facilities currently operated by The Gym Group with our music video and advertising products," says Alex Peacock, managing director, Zoom Media UK. "Not only will we be the only local and national advertising format available in these clubs, but we will also be the only available TV programming for members, with our audio visual product dominating the whole environment."
Of the new GoodLife digital partnership, François de Gaspé Beaubien, Zoom CEO, says, "As the only national fitness club chain in Canada, GoodLife is an outstanding brand and we are privileged to be its media partner. We are also very excited to be able to offer advertisers the digital flexibility of full motion video with sound in Canada. This is a game changer for us in this country as we have proven the success of our digital fitness network for clients in both the US and the UK."
And Zoom will operate its proprietary Flexcast suite of high definition digital signage, overhead signage, and interactive personal entertainment for Cardinal Fitness as part of a comprehensive media and entertainment relationship.
Zoom's FlexCast system gives a mixture of entertainment; show marketing calendars; promote profit centres; highlight personal trainers; educate club members and teach them how to use the equipment; broadcast safety and etiquette tips; and create customized messages. And the content is customized at the facility-specific level.
The Digital Signage Format consists of a split screen featuring continuously changing digital signage; a 'Now Playing' bumper window identifying the customer logo; a digital clock; and a scrolling message controlled by the customer.
"Zoom Media has been an invaluable partner of ours for over 10 years," says John Muszak, vice-president marketing at GoodLife Fitness. "Its high quality digital entertainment and messaging system, combined with terrific advertising programs, will appeal to our members. In particular, the Flexcast system allows us to tailor the network by venue and by daypart and allows us to customize the experience for our members."
With GoodLife, Zoom's digital Fitness Network now reaches well over 3,000 around the world. Total number of digital screens in Canada will now reach 1,600 by year-end.
"GoodLife operates the largest chain of fitness clubs in Canada," says Tom Lapcevic, president of ClubCom, LLC. "We look forward to working with GoodLife and bringing engaging and customized programming to its prestigious membership base."
In the US, the new Cardinal Fitness network will be privately branded and will feature Zoom's suite of high definition media products including digital signage, overhead entertainment and its patented interactive personal entertainment platform. Zoom will also be installing fixed billboards and will exclusively represent all advertising opportunities.

"Zoom's track record of leadership and innovation in the space makes it the logical partner for us;" says Dan Collins, Cardinal Fitness director of sales. "Its high quality entertainment and messaging system, combined with terrific advertising programs, will appeal to our members."
Dennis Roche, Zoom president, says, "Cardinal Fitness's mission of providing a comfortable workout environment for members of all types makes it a fast growing leader in the fitness industry. The chain has experienced explosive growth since its launch in 2001 with its clean environment and neighborhood orientation. We look forward to growing with Cardinal Fitness in the coming years."
With more than 3,000 venues, Zoom claims that it is now the largest in digital fitness media, ahead of Reach Media Group and Health Club Media Networks. (Ed. Health Club claims 4,000 venues, but we are not sure that they are all digital, or all fitness clubs. )
Two of the things that help Zoom Media's digital network to grow, says Roche, is that its carries both local and national advertising with every venue having an IP address, and "We give bigger cheques to our venue partners."
GoodLife Fitness, in business for 32 years, was recently honoured with platinum status in Canada's 10 Most Admired Corporate Cultures program, gaining Platinum Club membership.
Zoom Media Inc. is a member of COMB and provides audited circulation of its advertising panels via Nielsen. It is also a founding member of OMAC and board member of CODACAN.
Established in 1998, ClubCom LLC is the leading provider of digital media networks for the fitness industry across the US, Canada, the UK, Germany, Japan and Australia. Flexcast is the name of the latest software upgrade for the Clubcom system.
With memberships as low as $10 per month, Cardinal Fitness offers state-of-the-art cardio and strength equipment and a variety of amenities including personal training, free equipment instruction, full locker rooms and tanning.
The Gym Group was formed in 2008 and is the most successful and fastest-growing operator in the sector, with plans underway for 30 additional venues by the end of 2012. It was recently ranked #5 in the Startups Top 100 survey, having secured GBP20 million at the beginning of 2011 to continue its schedule of gym openings. Its sites are open 24/7 and have a total monthly footfall of over 750,000 members across its current portfolio.