Adrian J Cotterill, Editor-in-Chief
Luxury car manufacturer Bentley has launched its first outdoor campaign on Ocean Outdoor's premium Silver Screen. The campaign, which was planned by the Birmingham agency Brilliant and bought by Kinetic, gives Bentley spectacular cut through on London's main arterial routes, allowing great proximity to London's main Porsche, Mercedes and Audi dealerships and marketing to motorists in premium locations.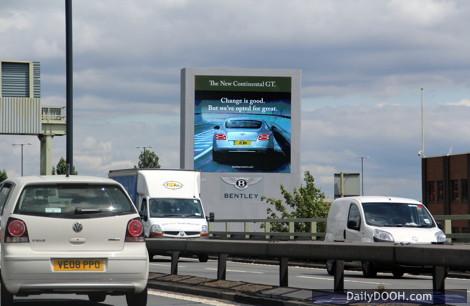 The campaign, which features the strapline "Change is good. But we've opted for great" also appears on Ocean's Holland Park Roundabout, A40 Digi bridge, P10 Hammersmith and the West Cross route Digi banner.
The Silver Screen is the largest site on London's M4, dominating inbound and outbound routes to London Heathrow. Ocean Outdoor's first luxury car brand outdoor campaign featured the Mercedes SLS Gull Wing earlier this year.