Adrian J Cotterill, Editor-in-Chief
Prysm's laser phosphor display technology (LPD) tiles have been installed in their first ever broadcast studio as a videowall backdrop for Jim Cramer on CNBC's Mad Money show.
The studio has been visibly enhanced with two 4 x 3 (diagonal measurement of 92″) walls of Prysm's 25" TD1 tile and hese will provide a backdrop to the show displaying investor data and graphics as Cramer makes it his mission to provide viewers with the knowledge and the tools that will empower them to be a better investor.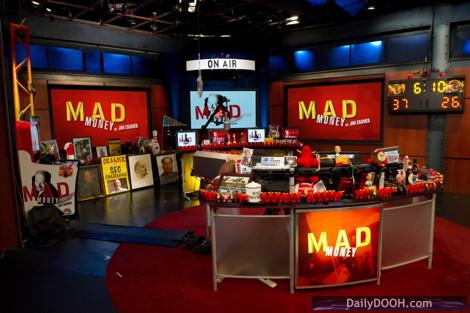 LPD as a technology platform is ideal for broadcast applications due to its off axis viewing angle of 180° – the images can be clearly seen from the array of different camera angles.
Dana Corey, Prysm's VP of Global Sales & Services told us "We've always known that a broadcast environment would offer the perfect synergy for Prysm's unparalleled visual experience on the LPD platform. Prysm's ability to deliver stunning images that are crystal clear at every angle in the studio will have a powerful impact on Mad Money's audience and viewers."