Adrian J Cotterill, Editor-in-Chief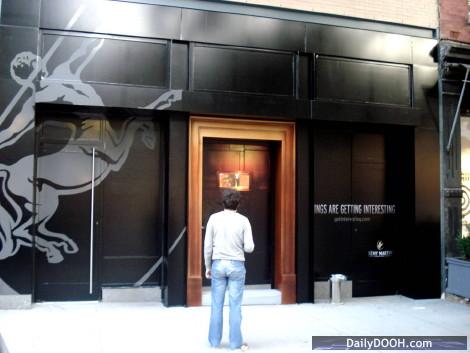 PEARL MEDIA sent us this StreetLeveltv installl in SOHO, 455 West Broadway, New York City for Remy Martin Brandy.
The campaign was created to increase awareness of the exclusive Remy Martin parties that the brand is hosting around New York City. Previously, the only way consumers could get access into these parties was to register online at the Remy Martin website. This campaign was developed to generate interest and drive traffic to the website.
Sound was obviously very important in this install, here we see Motomedia's StreetLevel Billboard concept having been designed to give off the impression that a Night Club was located at the vacant location! As pedestrians walk by muffled music can be heard alluding to a party.
It's all a clever use of projection we think. The mechanic is the creation of a door on a centre window, this door design acts as a 'speakeasy' (it has a gothic door surround to give it a 'theatre' feel').
Touch interactivity sensors recognize the knock and a speakeasy slider on the door opens as a digital bouncer appears. As the bouncer appears, the muffled music becomes louder and more clear (as if a party is going on behind him) the bouncer asks "Do You Have The Password"?
The speakeasy slider then shuts on the consumer, music is again muffled and Text Messaging information is provided to obtain the password and locations of Remy Martin's parties throughout New York City.
Joshua Cohen, President PEARL MEDIA told us "Like all of our campaigns, everything was created and developed specific for this campaign and client. This project was particularly exciting because we got to use many of the tools we have in the shed, as well as be extremely creative in bringing this idea to life" .
PEARL MEDIA teamed up with Destination Media Group, and Mediaedge:cia in NYC on the planning and execution, La Comunidad was the lead creative team on the project. The Remy Martin campaign will run through the middle of November.
About PEARL MEDIA

PEARL MEDIA is a unique, non-traditional Out-of-Home Media company specializing in converting vacant storefronts and distinctive real estate assets into vibrant interactive Out-of-Home experiences for our clients.