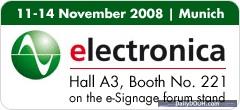 A couple of vendors have told us they will be attending this event, Electronica 2008 in Munich in a few weeks time, oh how we wish we could be there too.
Esprit Digital have already told us that they are presenting at the e-Signage forum – errr, now come on who on earth came up with the term 'e-signage' that prefix is so 2001, Ed
The e-Signage Forum runs alongside the main event…
e-Signage Forum

e-Signage, also known as digital signage or digital signposting, has caused a sensation in a wide range of applications in a very short space of time: as a modern marketing alternative to traditional posters and as a highly flexible information platform. And the hype is continuing! iSuppli estimates that in the EMEA region alone, the market for e-signage LCD displays will more than triple up to the year 2011 from the current figure of 1.8 million units per annum.

For this reason Messe München in cooperation with Elektronik Praxis for the first time presents an e-Signage Forum at this year's electronica. The forum is located in hall A3, booth no. 221, and will be the ideal meeting-point for trade visitors who wish to obtain detailed information on new e-Signage products, applications and trends.

The e-Signage Forum includes a Product Show as well as a Speakers' Corner. The companies that participate in the forum are leading in the e-Signage market and will make the e-Signage Forum a unique visual experience with a number of highly interesting exhibits, such as:

* Sharp's new 108''-LCD-Monitor
* Esprit Digital's latest digital 65"-Outdoor-Poster
* Elektrosil's state-of-the-art Multi-Touch-Solution on a 65" LCD panel
* Osram's "LED Cube" as well as an up-to-date LED display
* Conrac's 4x LCD cluster as well as an 65" LCD application
* And finally Power Systems' innovative inverter solutions

In the "Speakers' Corner", speakers from the industry as well as from research and application-oriented companies will talk about a wide range of topics varying from the latest e-signage market figures, innovative display features and commercial requirements relating to content and installation to examples of best practice. A panel discussion on the potential and future prospects of e-Signage will complete the series of talks.