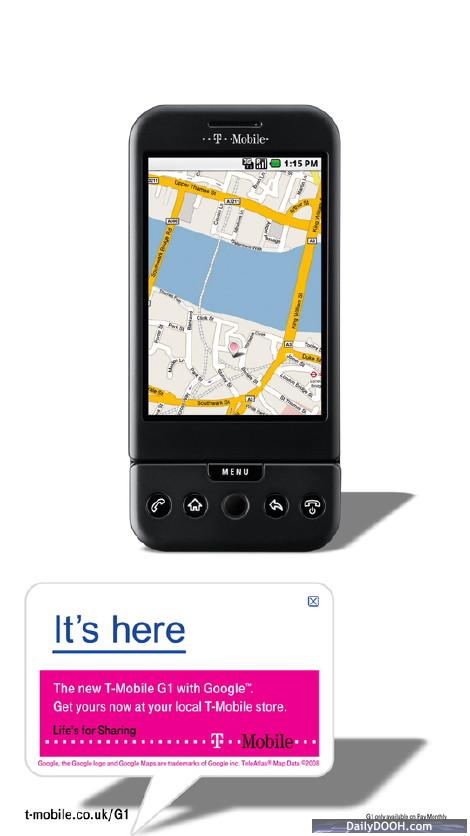 T-Mobile's campaign for their G1 Google phone broke today across London Underground screens, digital 6-sheets and on LCD screens at the brand new Westfield Shopping Centre (which we will be covering a little bit later in the week).
Here we see some very nice creative from Grand Visual
In all they created three separate executions all based on Saatchi & Saatchi's creative concept which uses Google Mobile map icons denoting places of interest…
The first execution features a local chip shop with a giant pin head marking the spot. The image zooms out to reveal a product shot with a Google map highlighting the location on screen. A speech bubble appears with the announcement and call to action "It's here – The new T-Mobile G1 with Google. Get yours now at our local T-Mobile store."
The second execution also brings to life the phone's arrival with the Google pin head marking London's popular Borough Market before zooming out to show the markets map location and call to action.
The final execution features a group of men playing golf when a giant envelope appears on the golf course demonstrating the phone's ability to send and receive mail direct using the Gmail application.
The digital outdoor activity complements a broader outdoor campaign, in addition to national press and online, all planned and bought by MediaCom.