Gail Chiasson, North American Editor
This is for kids – and the kid in adults who still enjoy playing with colours.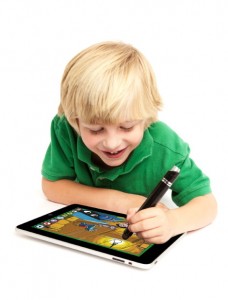 Nashville, Tennessee-based Griffin Technology, creators of innovations for everyday life, and Easton, Pennsylvania-based Crayola, whose products have inspired artistic creativity in children for more than 100 years, have made Crayola ColorStudio HD for iPad, an accessory and app combo that blends coloring with cutting-edge mobile technology.
Crayola ColorStudio HD is an entirely new digital play experience, coupling a multi-activity drawing app for iPad with a marker-shaped digital stylus, iMarker. With the functionality of a marker, crayon, pen and paintbrush in one, iMarker allows young artists to interact with animated coloring book pages that move and react while being colored. The iMarker brings the ColorStudio HD App to life on iPad, generating custom-produced pictures, animations, sound effects, music and other special effects with each touch on the Multi-Touch display.


"We love creating technology for kids, and our partnership with Crayola allows us to elevate their signature blend of kid-friendly creativity into the digital world," says Mark Rowan, president of Griffin Technology. "ColorStudio HD is the first of many offerings to come from this exciting partnership."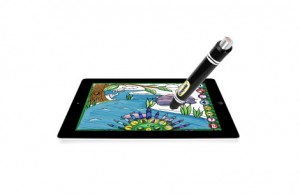 Warren Schorr, head of Crayola Licensing, says that Crayola ColorStudio HD ushers coloring into the 21st century by turning the iPad into an interactive coloring book that morphs and transforms as kids digitally color.
The Crayola ColorStudio HD App is able to differentiate automatically between a child's finger input (taps, swipes, etc.) and the input from iMarker. For the first time, users are able to manipulate both the creative space and color without having to toggle between app modes.
The ColorStudio HD App provides hundreds of hours of playtime, with more than 30 animated coloring pages, pictures, sound effects and music. Young artists also have the option to design an unlimited number of their own coloring pages using ColorStudio HD's extensive built-in library of backgrounds, music, sound effects and other elements. Artwork can be emailed, uploaded to Facebook or even printed directly from iPad to any AirPrint-enabled printer.
Crayola ColorStudio HD iMarker is available for $29.99 from Apple Retail Stores, Best Buy stores, and online from www.apple.com/retail and www.griffintechnology.com. The Crayola ColorStudio HD App is free from the App Store on iPad or at www.itunes.com/appstore.
Founded in 1992, Griffin Technology Inc. has created such products as: iTrip, PowerMate, iFM, iMic and Evolve Wireless Speaker System.