Gail Chiasson, North American Editor
Did you ever come away from meeting someone and think, "That guy knows how to do something really well, and he's smart enough to concentrate on improving it rather than wandering all over the place on other things"?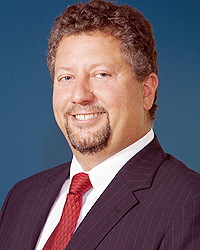 That's the feeling I got after talking at length last week with Mike Di Franza, the founding president of Captivate Network, Chelmsford, Massachusetts.
Di Franza is a seasoned media exec who has developed a strong working relationship with brands and it's paying off with increased revenue (Captivate has been owned by Gannett Co.Inc. since 2004, and, as a public company, he can't say how much) and a 5% growth this year in his network located in office building lobbies and elevators across the U.S. and in Canada.
"Traditionally, people buying into digital out of home or digital place-based media have basically purchased real estate," says Di Franza. "Screens are a means to an end. But in other media, television, for example, they buy content or programming. These are now key for our industry, too.
"We've always had our own editors both in the US – in Boston – and in Canada, in Toronto. They select news, tailor programming according to dayparts, and according to the specific regions. We let viewers know of things like subway delays, late-breaking news. It really works well for advertisers."
Captivate has also started building on its viewers as contents sources. For example, six months ago, it started asking viewers to send in views from their office windows. It thought it might get a few submissions.

"It has been amazing," says Di Franza. "We've been getting hundreds of submissions every week. It's been fabulous! And it certainly shows our advertisers that our viewers are engaged."
Captivate's screens (approximately 10,000, about 1,000 of which are in Canada) almost always are 2/3 content and 1/3 advertising.
"Our viewers are big travelers and also are heavy into photography," says Di Franza. "We've also tested having submissions from our viewers for photos from their international travels, and it tested well, so we may bring that back. We're always trying to introduce new features."
Among those features currently under test are how mobile and near field communications, fit into Captivate Network. NFC might be sensitive to the communications experience, he says.
We asked Di Franza about expansion to other countries and were told that it may well be in the picture, beginning in any of the many countries where it already holds the patent for its technology.
"We started with Canada, beginning in Montreal using French because we wanted to see how to work with languages other than English," he says. "There's nothing definite regarding other countries right now, since we still have a lot of potential expansion in the U.S. and Canada, but it's possible in the future. Right now we're still identifying prime locations, here and elsewhere."
In addition to recently hiring Patrick Hagerty as its new chief revenue officer, with responsibility for leading the Captivate sales team and be responsible for all advertising related revenue for the company, another recent new hire was Kruti Parekh to look at various interactive solutions such as QR codes and see how they might be incorporated with Captivate.
"There must be a need for user engagement and it must be scalable," says De Franza. "We want the best user experience for our viewers. I don't believe in using technology just for technology's sake."
He didn't use the terminology, but it appears that for Di Franza, content, not technology, really is king.