Gail Chiasson, North American Editor
'Engagement' and 'Experiences' are two words that we're sure you're going to hear from Paul Rawlings during the Strategy Institute's Digital Signage Investor Conference in New York next week.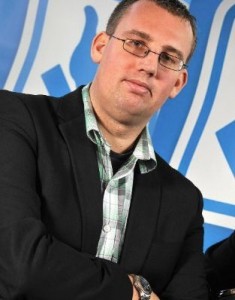 Rawlings, founder and CEO of ScreenReach Interactive, Newcastle upon Tyne, UK, who will be speaking on the panel The Stories Behind the Million-Dollar Funding Deals, along with Dave Courtney, CEO, JiWire, San Francisco, and Ajay Chowdhury, CEO, ComQi. New York, is on a mission to turn all DOOH network screens into two-way interactive screens.
"Our Screach product can build an interactive layer onto screens to engage consumers and give them great experiences," says Rawlings, who will be showing examples from clients such as Ocean Outdoor and JC Decaux that his company has worked with. "It's such an interesting proposition. You don't need additional hardware or software. It's phenomenal! It's awesome!"
That word 'awesome' permeates Rawlings' conversation as he discusses interactivity.
"Screens should not be passive," says Rawlings, whose background is in digital signage. "They're crying out for interactivity. Interactive screens turn the users into controllers. The screens can understand and connect with their audience. Engaged users can be rewarded in real time."
And, he says, the fact that interactive screens can also be measured so that advertisers know just how engaged the users are, "is awesome."
We have no doubt that Rawlings' talk will be awesome, as well.