Adrian J Cotterill, Editor-in-Chief
Forgive us if we talk a little more about next week and our trip to NYC. We've been waiting a long time for the back to back events that are #DSinvestor and #DPAAMediaSummit.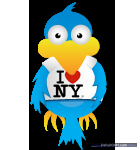 Regular readers will know what I think of 'panel discussions'. They usually end up being one person speaking for far too long, with the other 'panelists' sitting there listening (and not being able to see what the speaker is presenting as they are on the stage with him / her) looking like LEMONS and then to cap that all off the other 'panelists' have their turn – usually leaving little time for discussion.
It's all about moderation of course (and if you are a chairman like me 'being rude') and for panelists to remember that they are there for a discussion not there in their own right as speakers. Those on panels at #DSinvestor next week need to watch out unless they remember these rules.
We've kept the #DSinvestor panels down to three persons maximum but we note that for some HORRIBLE reason some of the #DPAAMediaSummit panels have as many as six people including the moderator.
This is bad for the audience and also for journalists (they are so hard to cover because one is never sure which person said something brilliant or otherwise).
We'll have the finalised DPAA Media Summit agenda up shortly but for those 400+ folks attending you have been warned about the panel sessions.