Gail Chiasson, North American Editor
AIDS Walk Los Angeles is promoting its 27th annual fundraising walk, one of the largest fundraising events in Los Angeles, in EYE's digital display units for the second year in a row.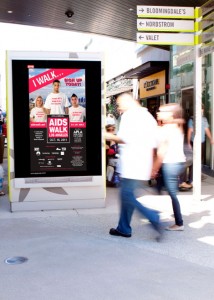 The campaign is running at Los Cerritos Center, Santa Monica Place, The Oaks and Westside Pavilion leading up to the event taking place this Sunday, October 16/11.
The 10K walk, that begins and ends in West Hollywood Park, will raise funds for APLA (Aids Project of Los Angeles) and dozens of AIDS service organizations in the Los Angeles area. In 2010, 30,000 participants helped raised over $2.8 million for HIV/AIDS prevention, treatment and advocacy programs.
Shona Borevitz, event director of AIDS Walk New York, says, "The donation of EYE's digital displays in local Los Angeles shopping centers helped raise awareness and much needed funds for the fight against HIV/AIDS. This is an outstanding example of EYE's community leadership, corporate responsibility and human kindness."
The digital ad, which began running on September 5th, promotes awareness for the "I Walk…" campaign and encourages the community to participate in the event and help raise funds for the epidemic. In 2010, EYE supported AIDS Walk Los Angeles with a donation of Eyelites in west coast malls.
"EYE is once again proud to promote AIDS Walk LA," says Jeff Gunderman, senior vice-president and general manager of EYE USA, "AIDS Walk is one of the many organizations EYE continues to support as part of our Eye Have a Heart global initiative to give back to the community."