Gail Chiasson, North American Editor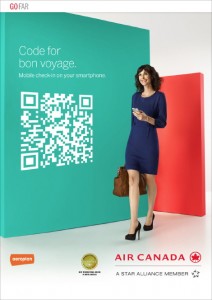 Air Canada has launched a fall 2011 product campaign that demonstrates all the features that make flying Air Canada a superior experience by offering style, elegance and sophistication to passengers.
The contemporary campaign features a series of 15 creative executions that talk about each unique selling proposition for both Economy Class and Executive First. Among them are the choice of destinations, inflight entertainment, ample legroom, power outlets at every seat, fully flat beds and Aeroplan Miles.
In order to connect with its target audience, Air Canada is developing a personality that speaks to young, affluent globetrotters as well as adults
who have earned and desire a luxury experience. Each individual scenario is staged in a unified visual identity, created and developed in-house at Marketel, Montreal.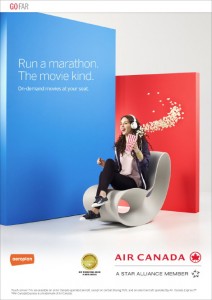 The lifestyle-based ads are being showcased via subway station domination in Toronto and Vancouver as well as print, digital and out-of-home across Canada.
"Elegance and style are used in the new campaign platform to demonstrate the added value of the Air Canada experience and bring back a sense of glamour and prestige to air travel," says Nancy Lee Jobin, executive vice-president, integration, Marketel.
The campaign also includes distributed content on mobile pages, Facebook and YouTube; enhanced print with QR codes; and an online presence with interactive online banners with page dominance on key portal sites focused on key urban markets, entertainment, lifestyle, sports, news, leisure and travel sites.