Bodymetrics, a London-based company that provides a 'body mapping' platform, has teamed up with PrimeSense, to create a solution that will allow online shoppers or even digital in-store shopper, to get it right when virtually choosing their new must have outfit. Studies have shown that 20-40% of all online clothes purchases are returned due to fitting issues and since interactive outfit choosing screens are flourishing, this might be a good solution to avoid returns.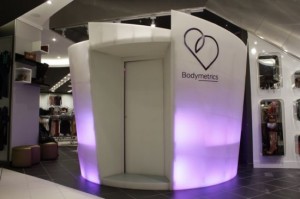 Prime Sense creates semiconductors that allow, what they call, 3D machine vision and recording. The scanner can take up to 100 measurements.
The pilot scanner, equipped with 8 PrimeSense 3D cameras, scans its occupant recording all kinds of information about body size and measurements. After the scanner has collected all that data, the user can upload it to the web where it can be used to aid in clothes shopping.
The pilot model has been deployed at the New Look store in Westfield Stratford shopping complex where it will be used mainly to help ladies find wonderfully shapely jeans.
Suran Goonatilake, Bodymetrics CEO comments: "The body is the last piece of information to go digital. Most of your life is already digital – your friends, your music, your bank account – all accessible on-line, but your body is not. Bodymetrics together with PrimeSense is enabling consumers to store and access all their body information online and link this to retailers. Now, body scanning becomes a powerful platform for many retailers to provide the personalized fit and service their customers have always wanted."
Lets hope the information gathered will be kept private though! On the other hand, if there was a way to allow sharing some of this information, a few Christmas presents might be just right for a change.