Five years ago, on 26th October 2006, Dr Dieter Zetsche, Chairman of the Board of Management Daimler AG and Head of Mercedes-Benz Cars, officially opened Mercedes-Benz World at Brooklands, Surrey. Since its opening Mercedes-Benz World has welcomed 1.5 million visitors that have been entertained by the past, present and future from the world's top premium car maker.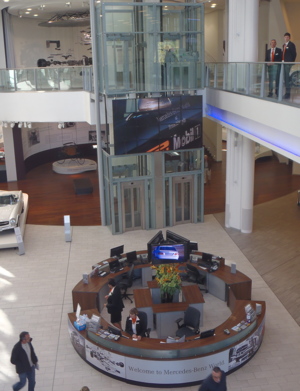 To accompany the visitor's experience the centre had digital signage installed from the start. But while it first used Sony's screens and Sony Ziris, now it has changed to LG – although for the moment it still uses the Ziris management system. There are plans to change this to LG's own SuperSign.
The brand experience centre has an array of attractions and driving experiences available every day, bringing the inspiring performance and iconic style of Mercedes-Benz to life. This centre was the backdrop that LG Electronics chose to talk to a group of its distributors and a few journalists about its views on the development of the digital signage market.
The LG screens at the Mercedes-Benz World worked well, even with direct sunlight on them. According to people that have visited the centre before, the best replacement was the video wall on the reception area, which supplanted a projection screen that was quite poor with the ambient light.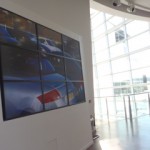 Through out the centre there was a combination of LG video walls – with not the slimmest vessels I've ever seen and not the most squared out fitting, single screens in walls and columns and some mobile displays.
LG's presentation did not unveiled anything new, but they had a wonderful champion of the brand and of digital signage in Ian Trueman, owner of Farnham-based estate agents, Trueman & Grundy.
A small agency, Trueman & Grundy says that the LG digital signage solution is proving to be a major attraction for customers waiting in the office and it has achieved a 45-50% increase in property viewings and a 30% increase in sales opportunities as a direct result of using the system.
Listening to Trueman one would be forgiven for thinking he must have been selling houses all his life. Certainly he sold the benefits of using digital signage to attract clients to everyone present at the event.
However Trueman story is other. He worked for the Daily Star for some 25 years and it was only after leaving the publication that he started his new career. We wish him well and congratulate him for an outstanding presentation – lets hope LG also rewards his performance.