Have you heard of Variable Message Sign (VMS)? I'm sure you have in the traffic control sector. VMS is an electronic traffic sign often used on roadways to give travelers information about special events. Such signs, which are usually simple LED displays, warn of traffic congestion, accidents, incidents, roadwork zones, or speed limits on a specific highway segment.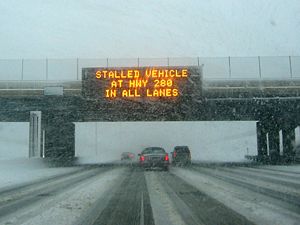 Now this method is being combined with a more sophisticated digital signage solution in the Middle East to aid transport at city gateways and highways.
Alliance, an Abu Dhabi-based leading Intelligent Transport Solution provider, has signed an agreement with Advanced Interactive Media Solutions (AIMS), a SCALA Middle East partner, for a project to develop smart gates for highways and cities in the UAE. AIMS has been commissioned by Alliance to develop the content management application for the intelligent transport solution, which is poised to adopt a new concept for the VMS.
Eisa Al Shamlan, Chairman, Alliance, said: "With its specialised expertise in conceptualising and developing digital signage solutions, AIMS will play a crucial role in realising the objectives of this project. AIMS has a very impressive track record with various high-profile projects and we are confident that they have the required expertise and experience to help ensure the successful implementation of the intelligent transport solution."
Ahmed ElRidi, CEO, AIMS, said: "This project once again underlines the power of interactive digital signage as an excellent tool to address a variety of challenges in the society. We are certainly looking forward to build on this successful collaboration with Alliance to create greater awareness about the importance of digital signage technology and encourage more organisations to take advantage of its strategic benefits and advantages."
AIMS integrates the power of SCALA content management solutions, internet, interactive displays, mobile applications and communication technologies to develop interactive digital signage solutions for the region. The company also uses advanced audience measurement solutions to maximise the ROI of each campaign and ensure optimum customer satisfaction.
Alliance will be showcasing the groundbreaking intelligent transport solution during its participation in the upcoming GulfTraffic exhibition, which will be held from December 12-14, 2011, in Dubai.