Adrian J Cotterill, Editor-in-Chief
Last Friday the Gigapixel FanCam† hosted the first ever UK FanCam during Tinie Tempah's opening night at The O2 arena.
Introduced by Tinie himself 'Tinie Tempah Class Photo at The O2' was captured by FanCam specialist photographers and is now live on Tinie's website enabling fans to find, tag themselves, share and re-live the experience via Facebook and Twitter.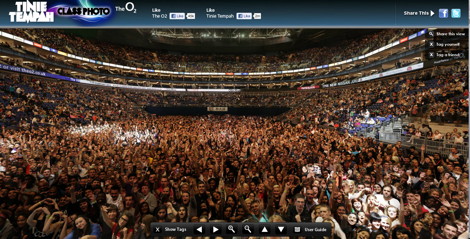 "Fans are always taking my picture when I'm on stage," said Tinie.  "I just wanted to turn the tables and take a picture of them for a change!  It's amazing to think that with just one camera we've been able to capture the face of everyone in a venue the size of The O2 arena.  I want all my fans to tag themselves and you never know this could be the most tagged picture in history!"
Tinie Tempah is the first individual act globally to leverage the new technology, enabling his fans to become uniquely involved in the gig, both on the night and thereafter through the specially created image.
This fan-focused initiative is a collaborative marketing effort by SEI London, O2, pd3, AEG & EMI, and driven by Tinie Tempah himself.
Tinus Le Roux, Founder, Gigapixel FanCam said, "Tinie Tempah at The O2 marks our first UK FanCam and we couldn't have worked with better partners. By combining new technology and social media, we have been able to deliver a unique experience for the fans. We look forward to bringing Gigapixel FanCam to more fans in the UK very soon."
†Gigapixel FanCam is a technology, enabling a 360 image to be captured in phenomenal clarity, 10 billion pixels, which is then digitally stitched to create an interactive photo.