Lighthouse will be showcasing new products at #ISE2012 that could be of use in the digital signage arena. Making its first appearance at ISE is the VideoBlades SkyRoll, the result of an alliance between Lighthouse and Pix2o, providing a 12.5mm pixel pitch, modular LED screen that delivers superb image quality both indoors and outdoors.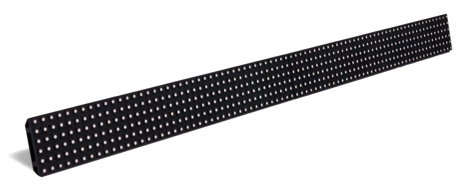 VideoBlades 12 comes in two formats: SkyRoll and GroundRoll which can deployed by rolling up or down from its patented rotating structure, just like a window shade. The modular format allows for the seamless formation of large-scale screens limited in size only by a customer's needs.
SkyRoll deploys down from overhead and is available in 4m, 6m and 8m widths and up to 10m screen heights, whilst GroundRoll, as the name suggests, deploys up from the floor resulting in the lowest possible rigged weight and is available in infinitely seam able sections 2m to 3m wide, up to 10m high.
Both SkyRoll™ and GroundRoll™ are pre-configured at the factory and shipped to the end user with only a minimal number of electrical and mechanical connections required to operate the system. Additionally, the VideoBlades™ 12 are supported by an integrated truss sub-structure, together these attributes have proven to afford maximized truck packing, unprecedented load in/out speeds, minimum handling and minimum wear and tear.
The VideoBlades™ 12 display system is composed of individual display IMs, called the Blades. These can be organized either horizontally or vertically into a video display of any size desired. They have the added advantage that the Blades can be used in groups or singly as set lighting fixtures and scenic elements. They are all operated from the same control and distribution system.
ISE takes place from 31st January to 2nd February 2011 at the Amsterdam RAI, Lighthouse  Stand 11E62.